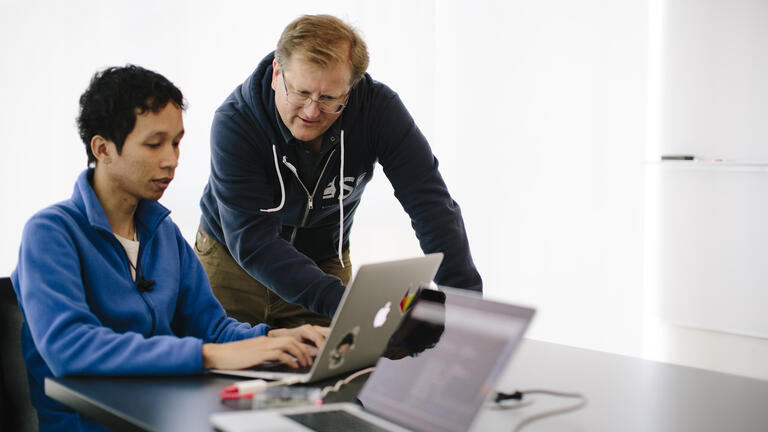 Students graduating from the MSDS program are embedded in the world's largest concentration of technology companies. Equipped with the techniques and skills necessary for data-driven decision making, our graduates are prepared for careers in a wide variety of fields with rapidly growing demand for knowledgeable and well-educated data scientists, engineers, and analysts. Our students also benefit from a robust in-house career services program, tailored to the needs of students preparing for data science roles.
For me, the program was the perfect complement to the theoretical foundations I'd developed through my undergrad, providing the transition to applying them in a professional data science setting. The program also offered exceptional support to the whole cohort throughout the hiring process.
ALEX HOWARD '18
Employment Offers
Over 90% of all graduates since 2012 received a full time offer of employment within three months of graduation.
Where We Go
Amazon
Meta
Google
LinkedIn
Apple

Data Scientist 
Senior Data Scientist 
Data Engineer
Software Engineer
Machine Learning Engineer

Median $55,000 in gains post-MSDS.

Class of 2021:

$125,000 - Median Base Salary
$180,000 - Maximum Base Salary
$130,000 - Median Base Salary, International Students
$124,000 - Median Base Salary, Women
$120,000 - Median Base Salary, no prior work experience
$132,000 - Median Base Salary, 2+ years work experience
$13,500 - Median Bonus (signing, relocation, merit)

Data Scientist
Data Engineer
Product Data Analyst
Machine Learning Engineer
Software Developer Engineer
Deep Learning Engineer
Design Engineer IV
Insight Analyst

Most Common Job Title: Data Scientist (53%)

Acubed
ALLDATA
Amazon
Amazon Web Services (AWS)
Applied Materials
Arria NLG
Barings
Booz Allen Hamilton
Capgemini
Coinbase
CommerceHub
CVS Health
Discover
Eike Consulting LLC
Extend, Inc.
Facebook
Galileo Financial Technologies
Gilead Pharmaceutical Company
Google 
Headspace Health
Jumio
Juniper Networks 
KNIME
La Clinica de la Raza
LexisNexis
LinkedIn
Manifold AI
Metromile
MOEV
Oncocyte
PG&E
Phylagen
Pixelberrystudios
Pocket Gems
Podsights
Propeller Health
Realtor.com
Reddit
Seated
Sikka AI
Sonova USA Inc.
Striveworks
Teladoc | BetterHelp
The Surplus Line Association of California
Turo
Twitch
Urbint
Virtual Gaming Worlds
Visa
Walmart
Xpeng
Zoom

53% of 2021 graduates remained in the Bay Area. 25% are working remotely.

Austin, TX
Charlotte, NC
Elk Grove, CA
Kirkland, WA
Los Angeles, CA
Nashville, TN
New York City, NY
Riverwoods, IL
San Diego, CA
Seattle, WA
Washington, DC
Career Services
MS in Data Science students benefit from a strong in-house career services program as well as access to the Career Services Center provided by the University. The in-house program is built by our faculty specifically for our students. We offer the following services and resources:
Interview Skills and Career Workshops
All students are required to complete 10 hours of interview skills training outside of class time provided by the program. This includes a series of workshops that cover job search coaching, resume and cover letter preparation, technical interviewing, salary negotiation, and more. Each year, the program invites alumni to facilitate mock-interviews with current students to provide valuable practice and feedback.
Faculty Support
Student teams meet weekly with a faculty mentor to discuss their internship projects, and this also serves as time devoted to career counseling, interview coaching and advice.
Alumni Connections
In addition to mock-interviews with alumni in the spring, students have access to alumni support through a series of small-group lunches and other events throughout the year.
Events and Networking Resources
Every spring, the MSDS program hosts recruiting events such as employer info sessions, on-campus interviews and screens, and site visits. Our weekly Seminar Series, biennial Data Institute Conference, and Data Institute certificate courses serve as additional networking opportunities.