Equipped to Lead and Succeed
Environmental Trailblazer
Keoki Kakigi '13 leads the charge to make Portland the first zero-waste sports stadium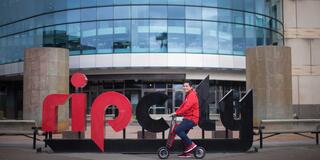 One of the first things Keoki Kakigi '13 noticed during his time at USF was the cafeteria waste bins: green for compostable products, blue for recyclables, and black for landfill trash. Student workers sat next to the bins and taught people what to do with their leftovers. Compost food and paper containers, recycle soda bottles, and chuck plastic wrappers.
"It made a big impact on me," says Kakigi, who hadn't seen these kinds of bins on Guam, the Pacific island where he grew up. "After the students educated me on what to do, I kept on doing it, even if they weren't there."
Nearly a decade later, Kakigi is on his own public education mission as the sustainability manager for the NBA's Portland Trail Blazers. Kakigi's goal is to turn the basketball team's hometown arena, the Moda Center, into the first sports venue in the nation to achieve zero waste certification — meaning all trash is either composted or recycled, rather than going to the dump. If successful, the arena would divert 1,000 tons of waste each year.
"There's something about an institution investing in social change that is really influential," says the physics major. "I saw USF doing that, and it's turned into my career."
Guam in danger
USF's cafeteria bins, along with San Francisco's embrace of green living, made Kakigi conscious of environmental issues. But it was a discussion with a classmate that convinced him to make sustainability his life's pursuit.
"My friend Morgan Campbell '14 was an environmental science major. She mentioned to me that Guam and other islands might be in danger because of sea-level changes from global warming," Kakigi says. "Boom. That sparked a social mission in me. I thought, 'I'm going to make my goal in life to mitigate that process, and reduce carbon emissions around the world.'"
A message for fans
Kakigi went to graduate school at the University of Southern California, where he earned a master's degree in environmental engineering. There, he won $24,000 to install solar panels in patio umbrellas, so students could charge their cell phones. His first job after graduate school was tracking the carbon footprint of Walt Disney Company, where he'd previously interned. He was hired by the Trail Blazers last fall.
"We aim to lead by example," says Kakigi, of the NBA team. "We have the first LEED Gold-certified sports venue, and we want to be the first zero-waste certified venue. We're showing our fans that we care about the environment — that this is something important."
Know someone with a powerful USF story? Let us know! usfnews@usfca.edu | Twitter @usfcanews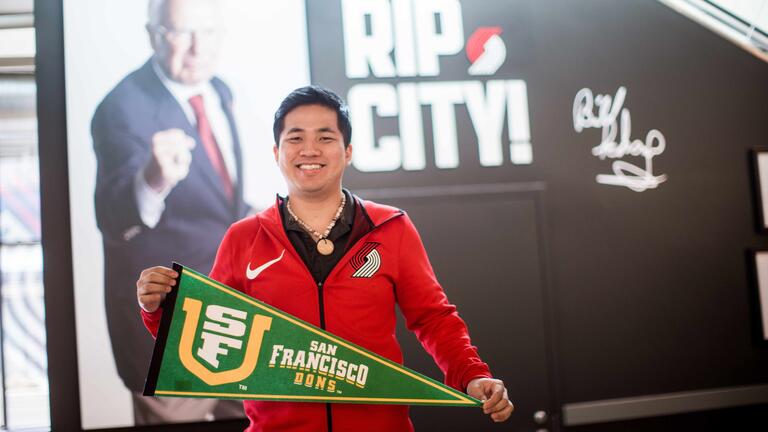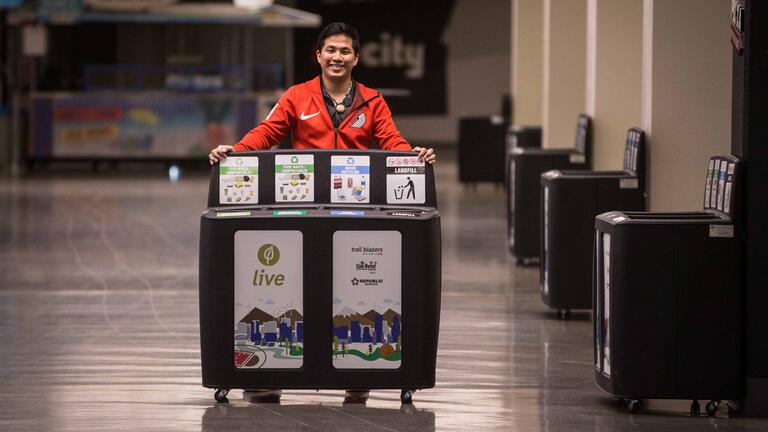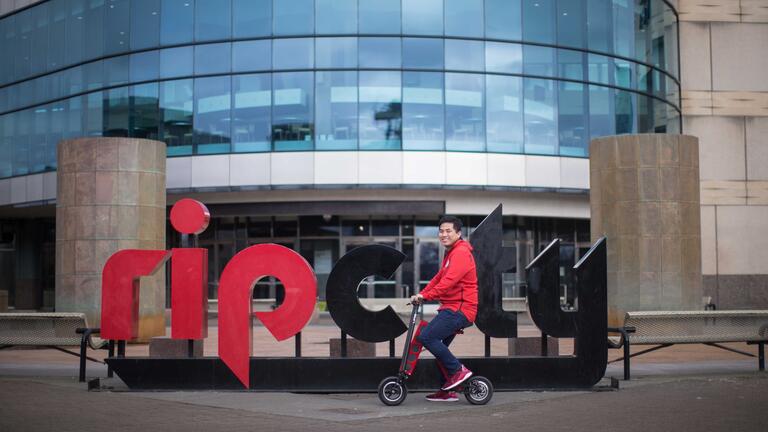 Keoki Kakigi holding USF pennant
Keoki Kakigi with environmentally friendly bins
Keoki Kakigi '13 in front of Portland's Moda Center