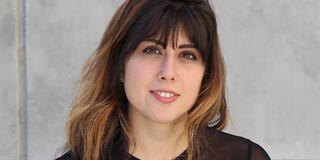 Sara Sepandar '12 is a Junior Designer at Mark Cavagnero Associates (MCA). Currently, she's working on design studies and Leadership in Energy and Environment Design (LEED) documentation for the Monterey Bay Aquarium Learning Center project.
Sara shared her experiences in the Architecture and Community Design (ARCD) program, and beyond, in an interview with USF in Fall '16:
Internships are an integral part of ARCD. What was your internship experience like?
I was fortunate enough to have several internships under my belt before graduating from USF. I did stints at Waugh Thistleton Architects while I studied abroad in London, Robin Chiang and Co. as a plug-in to my thesis, and, most importantly, the City and County of San Francisco in the architecture department of the San Francisco International Airport (SFO).
I cannot speak highly enough about SFO's internship program. I interned there for nearly two and half years. The projects are small enough to take on by yourself which exposes you to all phases of a project from the programming phase to the construction administration phase, and places you in a position where you are responsible for managing other disciplines and coordinating teams. I did not realize how much I learned from that internship until I started working at MCA. I'm having no trouble understanding and keeping-up with the project team and I'm one of the youngest employees in the office.
How did ARCD opens doors to your career?
At Robin Chiang and Co., where I interned my senior year, I befriended a couple of my coworkers. After I graduated, one of them found out I was in somewhat of a limbo with my job status and let me know about the position opening at MCA, which he had come to know about from another friend of his. It's funny how small the architecture world is.
In what ways did ARCD's location in the heart of San Francisco enrich your study?
USF's ARCD program is unique in that it offers a lot of opportunity for experiential learning. We use the city as our classroom, a benefit only a handful of schools internationally can do. For instance, practically every studio project we were given was on a vacant site in the city. It was a requirement for us to make frequent site visits to take field measurements, take photos, document lighting, traffic, pedestrians, you name it. This sort of understanding is lost in other programs, and to be honest, even in the workforce; however, understanding the site is one of the most crucial steps to successful design.