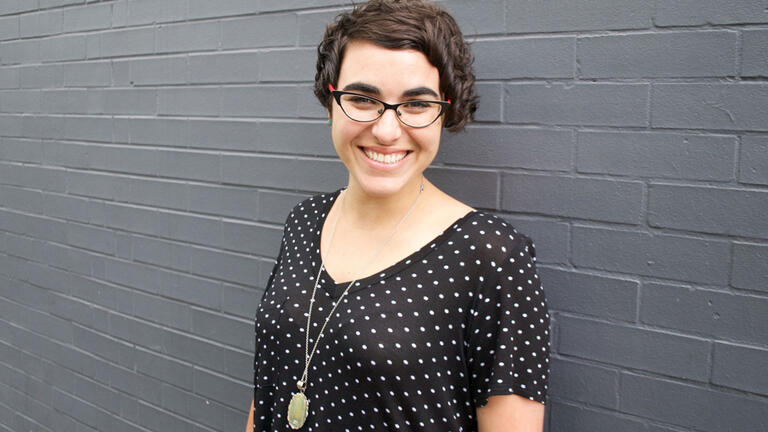 Lifelong Connections
Her Professors' Support Led to Teaching and a PhD
Initially, Jamie Foster '08 imagined a career in public relations and marketing — a common path for students of Communication Studies. But after dipping her toes in the field with some freelance gigs, she realized developing marketing strategies wasn't for her.
But she was still passionate about the communication field. So how else could she turn this passion into a career? Teaching. It was in Professor Eve-Anne Doohan's Nonverbal Communication class that she first considered academia as a viable career path.
"I thought, 'Wait, you can get paid to study how people talk and interact? I can make a living out of asking questions and conducting research?"
It sounded like a dream come true.
A Job That Doesn't Feel Like a Job
Jamie pursued a Master's in Communication Studies at San Francisco State University, where she had to opportunity to teach for the first time — "Fundamentals of Oral Communication." The experience confirmed that teaching was the right path for her.
"I was terrified about teaching and didn't think I was qualified for it," she said. "However, every time I stepped in a classroom, I would forget all of that and suddenly my job didn't feel like a 'job.'"
After graduating, the teaching opportunities just seemed to fall in her lap — SFSU, Berkeley City College, City College in San Francisco, and even USF! Jamie's former professor Eve-Anne Doohan recommended her for the position and, after a stellar interview, Jamie was teaching the very classes that inspired her love of Communication Studies.
"With each class I taught, I discovered a greater appreciation and understanding of this discipline. I look forward to going to work because for myself, teaching provides an opportunity for continual learning and growth."
A Community That's Cheering You On
Jamie realized that if she really wanted to pursue a career in academia, it was time to take it one more step forward — a PhD in Communication.
Her USF professors-turned-colleagues were incredibly helpful when she asked them for advice, walking her through the application process and what a PhD program would entail.
But the most helpful thing was Professor Allison Thorson's offer to co-author a research project — this would leave Jamie with a new writing sample for her PhD application that would reflect her current writing style and research interests.
Together, Jamie and Prof. Thorson studied how stress affects the way we use Facebook. Prof. Thorson coached Jamie on designing questionnaires, performing statistical analysis, editing, and finding journals that fit the research.
"This process really helped set me up for my PhD program and learn about the process of publishing, which was foreign to me," she said. "I am forever grateful to Prof. Thorson for offering to mentor me through this process."
The National Communication Association accepted their study, "'I'm Too Stressed to "Like" Your Post!': Exploring the Connections Among Facebook Relational Maintenance, Stress, and Closeness," in 2016; that same year, it was also published in the Iowa Journal of Communication.
The publication certainly helped Jamie earn a spot in the PhD program at the University of Illinois at Chicago, where she's currently studying Communication and Technology. She's grateful to USF for helping her get there.
"The professors at USF have been so supportive and encouraging — they maintained this level of community while I was a student through being a colleague," she said. "This is one of the reasons I chose USF as a student and one of the reasons I still want to maintain all my connections at this school. It's good to have a community behind you that is cheering you on and offering you sound advice for success."