From Curating to Fighting Hunger
How Museum Studies Can Lead to Work in Hunger Relief
Image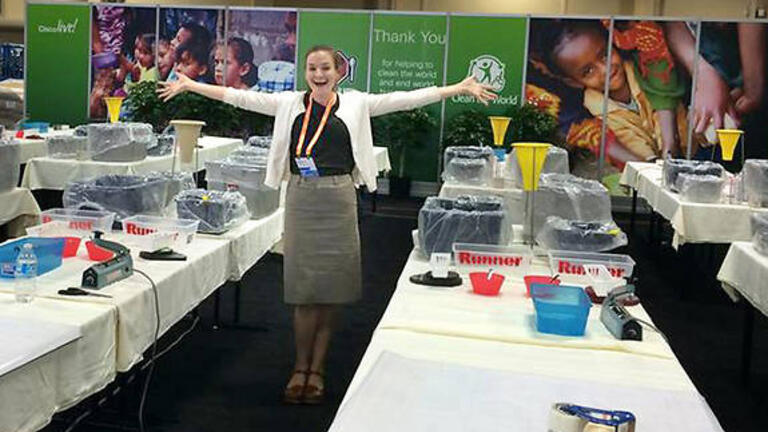 At first, it might not seem like museums and humanitarian relief organizations have anything in common. But Natalie Norton bridged the gap between them. An alumna of the Museum Studies program, Natalie is now a Corporate Relations Coordinator for Rise Against Hunger, a nonprofit that aims to help the world's most vulnerable people. Natalie sees a direct connection between her organization's mission and USF's commitment to social justice.
"When speaking about USF and social justice, you cannot separate the two," she said. "Part of my education required the understanding that we have to fight for those who need us most, for both our neighbors and those around the world."
Museums for Social Change
Natalie said all of her classes had a social justice focus. In Intro to Museum Studies, for example, she considered the ways museums could talk more honestly about history, be more representative of their communities, and create a dialog for social change.
These classroom discussions inspired her capstone project at the Pasadena Museum of History. Natalie realized the museum's exhibits, like many others', often told just one side of history, inadvertently excluding the community's Latino heritage. To address this issue, she engaged local high school and college students in her project, asking them what it meant to be from Pasadena and how they would tell their story.
"By fighting to make museums more embedded within their surrounding communities, we create a diverse experience," she said.
Hunger Relief for Access to Education
The more she thought about ways to include a diverse range of stories in museums, the more she thought about people who didn't have easy access to museums, people who wouldn't even be able to share their stories. Often, these are girls and women in developing countries who face many barriers to education, including hunger.
"So many people are fighting just to get their next meal and do not have the time, nor the resources, to think about getting an education," Natalie said.
This is what led to her job at Rise Against Hunger, where she can help ensure that all children are able to attend school by providing a free meal.
"If meals are provided, parents are more likely to allow children to attend school, especially young girls," she said. "If they are given the opportunity to attend school, they will be able to tell their stories."
Skills for a Nonprofit Career
Commitment to social justice wasn't the only connection between Natalie's education and her current job. Because relief organizations and museums are both nonprofits, the program taught Natalie key skills for nonprofit work that helped pave the way for her career.
"In all of my classes, I learned very practical skills, from drafting requests for proposals and grants to writing for various audiences," she said. "This translates to all nonprofits, including my current organization. This was one of the reasons this program stuck out to me."
She said her professors, particularly Marjorie Schwarzer, were instrumental in shaping the way she views nonprofits. For starters, she realized continuous growth is key to keeping donors who fund the nonprofit's mission, whether to educate the community about history or end world hunger. Learning how to build and retain a diverse donor base has been essential at Rise Against Hunger, where Natalie helps secure funds for projects like their meal-packaging program, which provides nutritious meals to schools in developing countries.
"I am so thankful for the skills that I learned at USF," she said. "I've taken everything my education gave me to discuss the world's greatest challenges and bring to light the best solutions."
Visit the Museum Studies blog to learn more about Natalie's work.