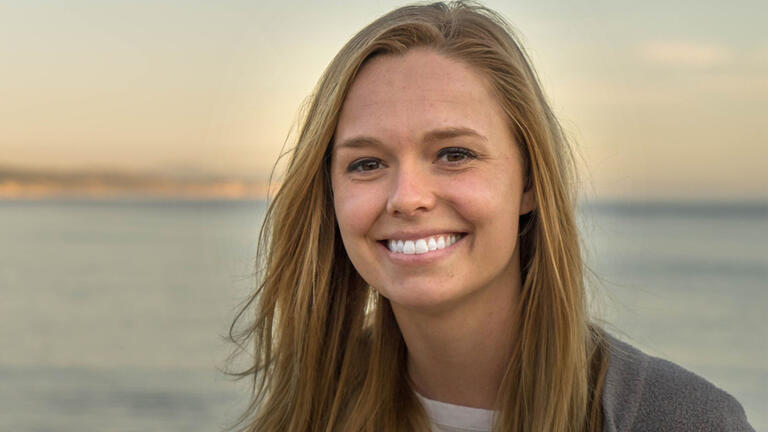 Reducing Water Risk
Creating Local Solutions for Water Sustainability
Improving the health of the world's water resources is an essential goal of the 21st century and one that drives Morgan Campbell '14. After graduating from USF's Environmental Science program, Campbell worked as a sustainability coordinator at leading global agro-food company Olam, where she helped reduce water risk in California agriculture during the recent five-year drought. She also had the opportunity to intern with the Pacific Institute — a global leader on water stewardship efforts — where she piloted a water sustainability program focused on local solutions.
Now, she is pursuing her Master's in Environmental Science and Management (MESM) degree at UC Santa Barbara's Bren School, where she specializes in Corporate Water Stewardship and is a Sustainable Water Markets Fellow.
Why did you choose to major in Environmental Science?
I have always felt the most comfortable in nature by a body of water. In high school, I took as many science courses as I could and loved learning about the scientific laws that govern the world. So studying environmental science seemed like a great way to mix my passion for the outdoors and my love for science into a meaningful career. I also picked environmental science because the major required that you take courses in physics, biology, and chemistry, and I liked the fact that I didn't have to limit myself to one type of science. After one week of Loading..., I was instantly hooked and knew that I had picked the right major.
How did the program help prepare you for grad school?
The intimate size of the program allowed me to make deep mentoring connections with my professors. I think the fact that all of my letter of recommendation writers knew me personally, as well as academically, strengthened my application to grad school. In addition, the experience I had working for Professor Allison Luengen as a research intern honed my scientific writing, data analysis, and analytical chemistry skills.
How did USF prepare you for the work you did with Olam and the Pacific Institute?
Although both of my jobs have been more about furthering sustainable policy and project management, I do think that my ability to understand the science behind the policy is critical to being an effective project manager. In addition to being expected to understand the science, I had to write and present often in both roles. My experience with a variety of final projects in the Environmental Science department and working in Professor Allison Luengen's lab also taught me how to handle long-term projects with many moving pieces. The liberal arts education USF offers in conjunction with the scientific background is what really sets me apart from a lot of other job applicants.
What was your favorite thing about the program?
My favorite thing was the capstone course. All of the majors have to take it the last semester of senior year. It's an amazing course where you conduct water quality analysis on a restoration site at Muir Beach. There's a moment at the end of the semester when everyone presents their research and it's evident how much you've learned, how far you have come in four years, and the amazing bonds that you have made with your peers and professors.