Global Perspective
Financing the Sustainable Energy Transition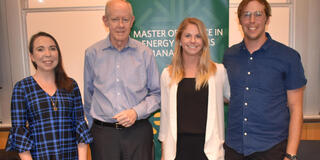 The panelist of experts were Maddie Brown, ESM MS '19 and project finance associate for Borrego Solar, Marisa Sweeney, YPE co-president and investment professional at Generate Capital, and Mark Weitzel, a partner in Orrick's San Francisco office. It was moderated by Mike Lowell, ESM MS '19 and the policy director and development engineer at Amber Kinetics.
The discussion featured an overview of past renewable energy projects and what to expect in the future; the risk/reward dynamics and how they are analyzed by different developers; renewable energy investment stability and merchant risks in the wholesale market; and concerns for future financing projects.
"As an international student, it was eye-opening to know about the aspect of tax equity financing, which is kind of specific to the US market," Maaz Haider, ESM '21 said. "Overall, it was a great experience to meet people from the industry."
Over 70 guests attended, many who asked individual questions after hearing from the panelists. The event took place at USF's downtown campus and featured a reception before as well as socializing at the end in the salon on the fifth floor. Speaker Series events happen several times a year. Check out the ESM website for upcoming events, the next which will be on Oct. 23 on the Role of CCAs in the Energy Transition.