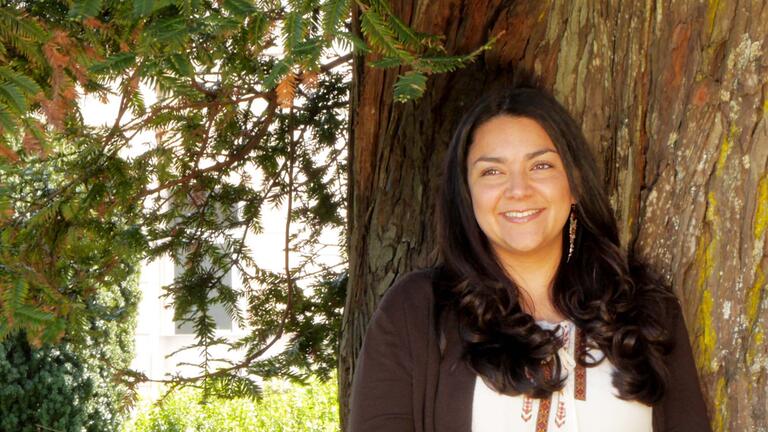 Inspiring the Next Generation
Teaching With Empathy and Understanding
Monica Alcantar '12 teaches Spanish at Sequoia High School. A graduate of Sequoia herself, Monica is thrilled to be inspiring the next generation. She loves witnessing the enthusiasm and sense of accomplishment students new to the language show when they are able to make linguistic and cultural connections. She also encourages her native speaking students to embrace and practice their heritage language, while continuing to pursue knowledge of Spanish culture and history.
Her road to becoming a teacher wasn't easy. The unexpected passing of her husband and her responsibilities as a single mother brought many emotional and physical challenges during her journey. The love and compassion Monica received from USF faculty during her time as a Spanish Studies major helped her through this difficult time in her life and supported her goal of becoming a first generation college graduate. Monica is now able to work everyday supporting the dreams of her own students.
What made you want to become a Spanish teacher?
I was born and raised in a household and in a community where being bilingual was indispensable. My parents immigrated to California from a small town in México — Aguililla, Michoacán. As a child, being constantly recognized by my mother and different educators for my ability to communicate in both Spanish and English sufficed as enough motivation for me to want to retain my Spanish skills. In college, however, my motivation became stronger and more personal. As I became aware of the history of Spain and various Latin American countries and delved into the literature that reflected the innermost concerns, desires, and hopes of these societies and their authors, I was overcome by a complex combination of sensations: oppression, injustice, solidarity, pride, resistance. I became aware of how crucial all of this knowledge was to my personal, cultural, and newly empowered identity. As a Spanish teacher, I am able to expose students to important histories, authors, and cultures that hopefully spark something special inside of my students' minds and their own educational journeys.
How did the program prepare you for your career?
It allowed me to gain a new perspective on what it meant to be "a person of service to others". I quickly learned that in order to truly serve a community, I cannot make assumptions about what their needs are. This is something that I apply to my role as an educator. In the beginning of the school year, I attempt to get a holistic sense of who my students are as individuals and I request feedback from them on a regular basis throughout the year in order to make the learning exchange that happens inside the classroom as genuinely relevant, engaging, and meaningful as possible. I strongly believe that students really value this because they know that I care about them as humans and I value what they have to offer to our educational experience together.
How did the faculty support you during your time in the program?
I faced some of the most difficult phases of my life during my time at USF. Had it not been for the compassion and understanding of my professors, I would not have reached my goal of being a first generation college graduate. When I started the program, my son was just three months old and my husband was unexpectedly re-diagnosed with osteosarcoma at the age of twenty-four. We were forced to seek experimental treatments in Southern California and every three weeks I had to miss a couple of classes so that we could travel to Santa Monica for chemotherapy. Unfortunately, in less than a year and a half, we ran out of treatment options and I was faced with a challenging reality: I was a single mother and I was a widow. While it was difficult to balance school with personal obligations, I remained committed to my education because I knew that my professors, especially Ana Urrutia-Jordana and Karina Hodoyan, had great empathy and consideration toward my particular situation. They made me feel like a valuable member of the USF community even when my circumstances made me doubt myself. Now, as an educator myself, I hope to be as compassionate and understanding of my students because I know that for me, that made the biggest difference in not giving up on my lifelong dream of becoming a college graduate.