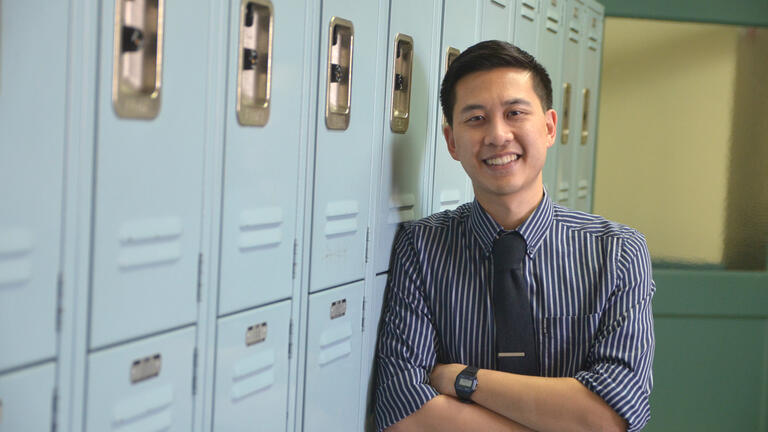 An Innovative Teacher
Finding Creative Ways to Keep Kids Engaged
Like other students in the Dual Degree in Teacher Preparation program (DDTP), Christian Pabalan started his field experiences his sophomore year. At first he was really nervous to teach students only three years younger than him at Gateway High School, but he said his professors and mentor teachers guided him throughout the experience. Slowly but surely, he became comfortable in his new role.
"I was a quiet, shy kid growing up. Even early in the program, I was very reserved," he said. "Looking back, the field experiences and the program in general helped me grow as a person."
He said his field experiences were eye opening to the real challenges of teaching and helped him understand the role and expectations of a teacher.
One of his most eye-opening experiences was working one-on-one with an ELL (English Language Learner) student, who got easily distracted and struggled with reading. Christian said his professors focused on innovation and problem solving in the classroom, and it inspired him to come up with creative ways to engage this student.
When he learned the student liked basketball, Christian found a book about it and helped him read it for a book report. He even had him read outside while dribbling a basketball, and it helped him concentrate.
"Working with that student helped me realize the positive influence I can have on my students," he said. "I figured out how important it is to understand a student's background in order to help them grow as learners."
A Symbiotic Relationship
During his time in the program, Christian said his professors helped him realize he wanted to teach middle school. Part of what Christian enjoys about teaching middle schoolers is the opportunity to help them through this transitional time in their lives.
"They are not only growing academically but also physically, mentally, emotionally, and spiritually," he said. "Many of them are exploring their own strengths and talents. I'm fortunate that I can help them nurture their skills while developing a growth mentality to learn from their mistakes."
After Christian graduated from USF, his professors helped him search for job opportunities at middle schools that were a good fit for him. Now, he teaches seventh and eighth grade history and literature at School of the Epiphany in San Francisco, where he continues to focus on innovative approaches to teaching. For example, he had students draw comics about the Constitutional Convention, which proved a great way to engage them while helping them retain what they learned.
Ultimately, Christian views teaching as a symbiotic relationship.
"The more energy and passion I put into my teaching, the more my students will be engaged and put effort and motivation into their learning. We feed off each other's energies," he said.
Being a Better Teacher
The DDTP program's focus on innovation continues to motivate Christian to develop his teaching skills and pedagogical knowledge. One way he's doing this is by spending summers abroad as part of the America Bridges China educational program, where he teaches art and English to elementary school students.
He went into it not knowing Mandarin and being unfamiliar with Chinese customs. This helped put him in the shoes of a student on the first day at a new school, and ultimately helped him connect with his new students.
"The students felt motivated when they learned that I struggled in Mandarin as much as they struggled in English. I built a rapport with them because I learned to relate with them and we became mutually curious about each other's cultures," he said.
The experience reinforced his conviction that it's important to understand your students' background and be open about your background as well. It also reinforced what he learned in the DDTP program, that teaching should be as much of a learning experience for the teacher as it is for the student.
"Just like USF's motto, Change the World From Here, the program helped me develop my passion for teaching and motivation to always work at being a better teacher to my students."
The Dual Degree in Teacher Preparation program allows students to earn a bachelor's degree in the major of their choice and a master's in teaching in five years.