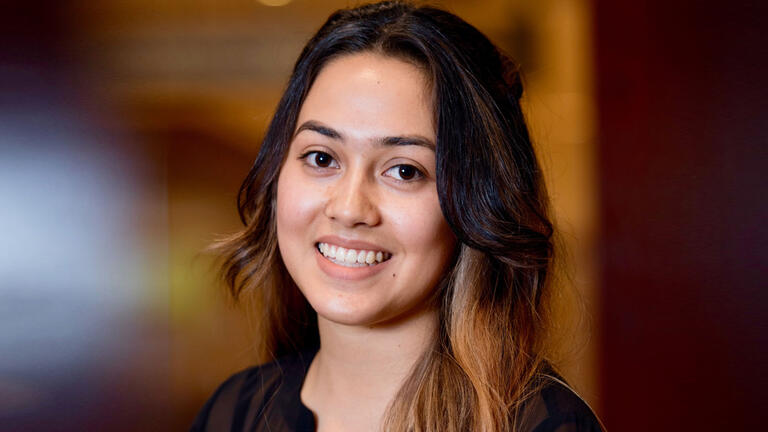 Bilingual Science
Discovering What Spanish and Psychology Have in Common
Shortly after Jocelyn Caballero '17 arrived at USF — a first-gen college student and native Spanish speaker majoring in Psychology — she quickly realized that she not only missed speaking, reading, and writing in Spanish, but also found a deficit in her skills. At first, she decided to take a few Spanish classes for both pleasure and retention. Jocelyn became so immersed that she decided to add Spanish Studies as a second major and hasn't looked back.
Since graduating, Jocelyn has managed to find work in a field that combines both of her majors. She works as the Bilingual Project Manager at brainLENS (Laboratory for Educational NeuroScience), a neuroimaging laboratory a the University of California San Francisco. Jocelyn recruits participants to the project, working with schools, parents, kids and the project team to execute neuropsychological assessments of the psychological effect of second-language exposure.
What exactly does your work entail?
I oversee brainLENS's Bilingual Project, which is a research proposal funded by the National Institute of Health with an R01 Grant. The project is a study looking at reading development in kindergarten to second grade students attending dual language schools. We do neuropsychological assessments that track and quantify their cognitive and educational progression. MRI scans are done when the child is in Kindergarten and later, when they're in second grade, to see how the brain has developed and changed as a result of second language exposure. I communicate with our research team, parents, school administrators, and students, to effectively execute protocol. My favorite part about my job is getting to see how happy and excited our participants are for their follow-up appointments.

Tell me about your experience in the program.
My time with Spanish Studies was great all around. Professors in this department are involved in many aspects of the Hispanic and Latinx community, motivating me to continue networking and widening the opportunity of interdisciplinary work. In all the classes I took with him, Professor Pedro Lange Churión integrated his work with literature, cinema, and art, with a critical emphasis that challenged students to see the world through different lenses. His passion and devotion to Spanish, the arts, and community motivated me to be as passionate and devoted to what I propose to do in my career.

Did you have any learning opportunities outside of class?
I interned with the Immigration Clinic at USF's School of Law under Professor Karina Hodoyán, which let me use my Spanish skills in the real world. It was fulfilling to have the opportunity to help both law students and clients navigate the tedious process of seeking asylum in the United States. Professionally, I was able to build on the skills I'd already acquired from past opportunities to therefore become a well-rounded individual in the workforce. I discovered my passion for helping the Latinx community navigate constant exposures to prejudice, racism, and unfair treatment in the workforce and beyond, which I now continue in my work at brainLENS.
How do you see your work continuing USF's mission?
Spanish Studies has widened my world-view motivating me to interact with my environment with an open mind. I use these skills along with my bicultural background to welcome people of diverse experiences.
USF's mission is carried out with the greater good of understanding diverse backgrounds in expanding the research of an increasing population of bilinguals. This, I believe, will help make this country an inclusive home for immigrants/refugees and offspring.