Giving
Empowering the Engineers of the Future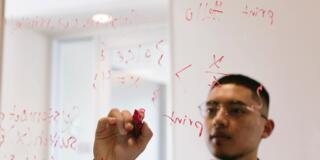 USF's new Engineering Program promises to be something special. With a focus on engineering for the 21st century, the program is built on innovation and ethical values that also defy convention. Engineering students can pick from three contemporary concentrations: Sustainable Built Environment Engineering, Electrical, and Computer Engineering, and Environmental Engineering.
Despite beginning the semester in the middle of a pandemic, this did not deter the students nor the faculty of USF's new Engineering Program from proceeding. Adjustments had to be made but the excitement and enthusiasm of the students were not dampened. The semester kicked off with "Summer Zero," a six-week program created to help transition the incoming freshman into a college mindset. Summer Zero was fully funded by generous gifts from the USF community, including a single donation of $75,000. 
Summer Zero Makes a Difference
Freshman Nyanah Haliburton-Gatto put it best when she said, "I honestly cannot imagine my first semester without Summer Zero. I was extremely anxious about the curriculum in such a challenging major but Summer Zero was a great review and helped me feel like I had earned my spot in my cohort." Haliburton-Gattowent went on to explain that the program helped the professors get to know the students and the students get to know each other, creating a family atmosphere.  
Sean Vartan, another freshman in the program, agreed sharing that, "Summer zero helped us get to know each other, whether it was getting to know the students or the staff, and it helped us embrace being the first cohort. It allowed us to realize that we shouldn't compete with one another, but we should build each other up, work with each other as engineers should, and compete with other engineering programs out there to show them who we are and what makes us different."
With such an auspicious beginning, the fall semester continued with support from community gifts. Because on-campus classes were not possible, faculty created and sent lab kits for students to work on from home.  In a traditional classroom environment, labs would be different every week, building to a project that the students were working to complete. "The faculty were amazing," said Hana Mori Böttger, associate professor and chair of the engineering program. "They managed to adjust the courses they had imagined into something that could be delivered remotely." 
Engineering with Ethics
While the method of course delivery was adjusted to meet today's needs, the core message and meaning were not. The goal of Engineering at USF is to teach and encourage students to solve the problems of the 21st century while emphasizing Jesuit Values and being ethical engineers. This was part of USF's draw for Haliburton-Gatto. "USF Engineering emphasizes teaching well-rounded, morally conscious students, which welcomes students like me that are not willing to compromise these values in order to succeed," she said.  Her favorite part of the program was Engineering Ethics with Professor Nick Leonard. 
Vartan added that his favorite part of the program was Programming with Professor Christopher Brooks, which has sparked his interest in AI and machine learning. "I've really enjoyed how the program has incorporated cura personalis, care of the whole person into the heart of the program,'' shared Vartan.
The Future Looks Bright
Both Haliburton-Gatto and Vartan have high hopes for the future, for both their second semester and for the future of the program. Their excitement and enthusiasm for the upcoming semester and for learning together on campus is contagious. "I have witnessed us being able to work together as a cohort so well while being in different parts of the world. Just imagine how unstoppable we will be when we are together in the same maker space," Vartan said.
They both encourage students looking for engineering degrees to strongly consider USF and this program. Haliburton-Gatto's notes, "the students looking into USF Engineering have a super unique opportunity to have an impact on their program. There is such a diverse range of faculty and students, so everyone fits in and has a chance to define what an engineer looks like to them." 
The Engineering Program at USF is part of Changing the World from Here: Campaign for the University of San Francisco. Learn more about how you can support Engineering and other priorities at usfca.edu/campaign.