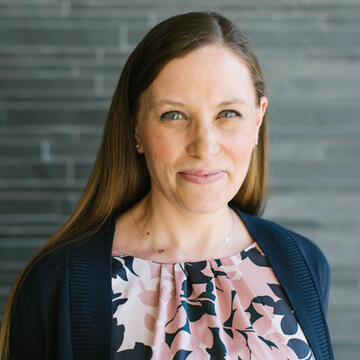 Eve-Anne Doohan
Associate Professor
Biography
Eve-Anne Doohan joined the faculty at USF in 2004. She studies the communication of married couples, with a particular interest in relational history narratives and their connection to marital and individual outcomes. She is also interested in beliefs people have about marriage. Her current research focuses on how married couples make the decision to have children. Her work has been published in the Journal of Marriage and Family, Journal of Family Communication, and the Western Journal of Communication, among others. She is the faculty adviser to the USF Chapter of the National Communication Association honor society, Lambda Pi Eta.
Research Areas
Marital communication
Relational history narratives
Couple communication about having children
Appointments
Honors College Faculty Chair in the Social Sciences
Faculty Advisor, Lambda Pi Eta
Education
University of Washington, PhD/MA in Speech Communication
Gonzaga University, BA in Communication Arts
Awards & Distinctions
USF College of Arts and Sciences Service Award, 2019
Master Teacher Award, Western States Communication Association, 2011
Top Four Paper Award, Family Communication Division of the National Communication Association, 2008
Selected Publications
Thorson, A. R., Doohan, E. M., & Clatterbuck, L. Z. (2022). Living abroad during COVID: International students' personal relationships, uncertainty, and management of health and legal concerns during a global pandemic. Journal of International Students, 12(3), 654-673.
Doohan, E. M., Lawless, B., & Ho, E. Y. (2021). Are students learning what we want them to learn? A communication program assessment. Communication Teacher.
Doohan, E. M. (2014). Marital communication. In A.C. Michalos (Ed.). Encyclopedia of quality of life and well-being research (pp. 3790-3794). Dordrecht, Netherlands: Springer.
Doohan, E. M., Carrère, S., & Riggs, M. (2013). Using relational stories to predict the trajectory toward marital dissolution: The oral history interview and spousal feelings of flooding, loneliness, and depression. In J. Kellas (Ed.), Family storytelling: Negotiating identities, teaching lessons, and making meaning (pp. 33-54). London: Routledge.
Bowie, B. H., Carrère, S., Cooke, C., Valdivia, G., McAllister, B., & Doohan, E. M. (2013). The role of culture in parent's socialization of children's emotional development. Western Journal of Nursing Research, 35(4), 514-533. doi:10.1177/0193945911411494.