Alumni
A USF Veteran Takes on the Opioid Crisis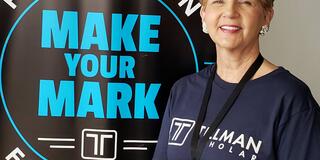 USF Executive Leadership, Doctor of Nursing Practice candidate Sherry Cox '20, has advice for future nurses: If you want to change the world, you have to know what you are doing.
The 2019 Pat Tillman Scholar and VA leader knows firsthand how much you have to know to make a difference. After a career spanning more than 30 years as a military nurse, she decided to leave retirement and continue to serve by joining veterans in the fight against the opioid crisis. Her first step: pursuing a doctoral degree to build and focus her expertise.
"I started to become passionate about working with veterans who struggled with opioid dependency. I knew I wanted to become a subject matter expert, so I looked at programs where I would fit in with their mission. Definitively, the University of San Francisco had one of the best programs," she said.
Pat Tillman Scholars
Through USF, Sherry learned more about the Pat Tillman Scholarship Program — a scholarship for military service members inspired by former NFL player and veteran Pat Tillman's commitment to service. While the application process seemed daunting to her at first, she stayed focused on her mission and ultimately received the prestigious scholarship. Through the program, Sherry has met fellow veterans and service members working in a variety of health fields, from PTSD to community health research.
As she reminisced about her first networking event, Sherry recalled having a flight delay and arriving just in time to join the scholars' introductions. She remembered that moment because it was then that she knew she was in the right place and among the right people.
"I enjoy being part of the greater good and being involved in an organization that is very committed to helping other veterans. I'm glad that I was invited, and honored that I was selected. I believe in the power of numbers and enjoy gathering with people who share the same passion," she said.
Fighting the Opioid Crisis
As a Pat Tillman Scholar, Sherry has gained interprofessional relationships with physicians, nurses, and other healthcare specialists. The opportunity has given her an edge in understanding and combating different diseases and ways to optimize treatment, which has also helped her in her current role as the Health Disease and Prevention Program Manager at the Birmingham VA.
At the VA, Sherry and her team take a unique approach to care by giving veterans the autonomy to decide on their treatment and rehabilitation plan — an unconventional approach that sets them apart. Sherry and her team educate and explore treatment options with patients and make decisions in partnership with them. She believes that partnering with patients is the key to focusing care and shifting the focus to the patient and their health goals.
"Healthcare got us into the opioid crisis, so we need to come up with a solution [out of it], and I want to be a part of that solution. People are aware of the opioid crisis, but awareness isn't enough. We need a movement, and sometimes the simple paths are the best solutions," she said.
Linking Past and Future
Looking back on her time in the military, Sherry cited the three years she worked at Landstuhl Medical Center in Germany as the most purposeful and memorable to her journey today. The medical base served as the first stop for battlefield casualties, and Sherry was assigned as the Air Force Chief Nurse. Dealing with severe trauma daily strengthened her resolve to use her skills and knowledge to continue to help fellow active duty servicemen and veterans — skills that she continues to use today.
Since 2008, the Pat Tillman Foundation has provided academic scholarships, professional development opportunities and a national network to empower military service members, veterans and spouses. These scholars are making a difference in the fields of healthcare, business, public service, STEM, education and the humanities. The next application cycle will open on February 1, 2020. To find out more, please visit the Pat Tillman Foundation website.