Engaged Learning
Why I Love My Major: Biology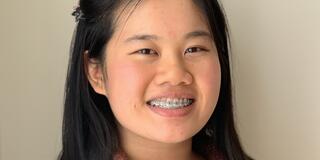 Can you have a moment with molecules? Ask Mikaela Kuan '21.
Why did you want to be a biology major?
I was good in science so I knew I wanted to pursue it in college. Deciding between chemistry and biology, I ended up choosing biology because the molecular pathways you study in that field are really interesting to me. I know it sounds a little nerdy, but it's what I'm most interested in.
What's a molecular pathway?
It's a series of events within a cell that leads to a certain outcome or a change, like production of certain molecules or cell death. In high school, each time I learned a cellular process I always wondered "why?" When I got to USF I learned why, like what enzymes or molecules are needed in a pathway to prevent certain diseases.
What's been the best part of biology for you?
The research opportunities. You do the things you learned in class, in person. Research helps solidify my knowledge inside and outside the classroom.
What would you tell an incoming first-year biology major?
Discover what you love to learn about in biology and it will motivate you when studying challenging subjects.
Any study tips?
Talk to your professors outside of class. It will help reinforce what you learned that day. Office hours make you actively learn that material and professors are so willing to guide you through the content. You need to be hardworking and actually love the major.