Alumni
Veterans Hospital Named for Fallen USF Nurse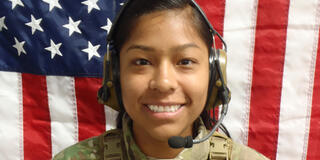 The San Diego Veterans Affairs Medical Center has been renamed to honor Capt. Jennifer Moreno '10, an Army nurse who was killed nearly a decade ago in an attack in Kandahar, Afghanistan.
On March 14, President Joe Biden signed the legislation, supported by all members of the California congressional delegation, to name the medical center the Jennifer Moreno Department of Veterans Affairs Medical Center.
"Captain Jennifer Moreno was a 2010 graduate of the USF Bachelor of Science in Nursing program, and I had the honor of serving as her faculty adviser for four years in the School of Nursing and Health Professions," said Susan Prion, associate dean of nursing. Prion provided testimony in support of the federal bill to rename the hospital.
Moreno, who grew up in San Diego, was killed while trying to help soldiers in her unit who were injured by an improvised explosive device (IED). A second IED detonated, killing her and three fellow soldiers. Another 30 soldiers were wounded in the attack.
She was 25 when she died.
Moreno attended the Army's Basic Airborne Course in 2009 and enlisted after graduating from USF. She was attached to the Army's 75th Ranger Regiment as part of the Cultural Support Team program, which put women on the front lines at a time when they were still barred from full-time combat jobs in the military.
After her death, Moreno was promoted to captain and awarded the Bronze Star for valor.
She is remembered in the SONHP building lobby with a plaque and replicas of her medals. A memorial ceremony for Moreno was held on Lone Mountain on Oct. 9, 2013, three days after her death.