Engaged Learning
The Upside of Remote Learning
Teachers and students make the most of USF from a distance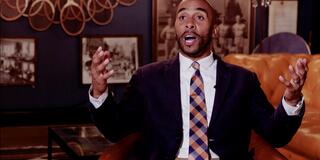 Six months ago, Dawn Ng MA '20 couldn't imagine having lunch with Paul Ratner, senior director of premium suite sales at the Golden State Warriors.
These days, she doesn't have to imagine. "We had lunch last week," said Ng.
Welcome to fall 2020, the semester of remote learning at USF. While it has challenges, it also has advantages.
Lunch and Learn
In the Sport Management program, "virtual lunch" is a highlight of each week.
On Thursdays at lunchtime, students meet online with USF graduates and other sport industry professionals who talk about their careers, said Ng, a graduate assistant and student in the program who helps to organize the lunches.
"We can interact with these people and ask them questions. It's like an informational interview."
Because it's easier to show up for a Zoom lunch than for a physical lunch, Ng said, more Sport Management alumni than ever before have agreed to attend lunch as guest speakers.
In the next few weeks, Ng and her Sport Management classmates have lunch lined up with Matt Lehrer MA '11, the chief experience officer of a fitness equipment company; Juergen Padberg MA '04, a senior sport manager for the International Paralympic Committee; and Lucy Tseng MA '14, a life coach for athletes.
USF Comes Together from University of San Francisco.
Engage from a Distance
In some ways, a remote class can be more engaging than an in-person class, said Sabrina Nelson, adjunct professor of rhetoric and language.
"In remote classes, I lecture less than I do in person," said Nelson. "Because it's hard to read students' body language online, it's hard for me to know if a remote lecture is connecting or not."
So instead of lecturing, "I show videos that demonstrate public speaking and persuasive engagement from BIPOC, LGBTQ+, and women industry leaders, for example, so that students see role models they can relate to," said Nelson.
While Nelson said she could show videos in a brick-and-mortar classroom, "I think they're far more effective online, because students are able to sit back, watch, and reflect in private."
Nelson adds that she loves teaching remotely because she can more easily work with students one-on-one. "I can also set up breakout rooms within Zoom for group work, can use polls to gauge interest and understanding, and use more anonymous feedback than I could in the classroom, which helps me adapt the course to student needs much more quickly."
Externships Everywhere
In the USF School of Law, student externships remain as popular as ever.
"We've had USF externs participate in litigation matters, performing research, pleadings, working on strategy sessions, and basically being immersed in the experience of being an in-house transactional lawyer," said Omar Jabbour, general counsel and chief compliance officer at Astound Commerce in San Bruno.
For both remote and in-person work, USF places student externs in government agencies, corporate legal departments, law firms, nonprofit organizations, and state and federal courts, said Anne Sidwell, assistant professor and director of externship programs at the law school.
"Working with law clerks was a great opportunity for mentorship, and I walked away with relationships that I'll have for the rest of my professional life," said Linda Szabados JD '20.
"Now is an ideal time to be in law school," said Celine Purcell, judicial law clerk at the U.S. District Court, Northern District of California. "Knowing that your job is to learn and to get as many experiences as you can? This is exactly what you should be doing right now."
Sidwell said "employers need to know that our students are ready and able to participate in the remote context. They can be powerful lawyers even if they're working in their living rooms."
The Personal Touch
While most classes might be remote this semester, they don't have to feel remote, said Indre Viskontas, assistant professor of psychology.
"Even if we can't meet here in person, you can still have one-on-one and small-group conversations with your professors," said Viskontas.
Students can and should connect with each other online, said Rachel Beth Egenhoefer, associate professor of design. "Right now, it's more important than ever for our virtual classrooms to be a place for community."