Engaged Learning
UPA New Colloquium Series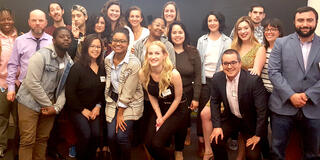 The Master of Arts in Urban and Public Affairs (UPA) program kicked off its new UPA Colloquium lecture series in 2018 with public talks on topics as diverse as the politics of real estate, the "DIY city," the complex policy landscape of homelessness, and the history of a local landfill turned public park.
The colloquium complements the work that students do in the classroom by connecting them with cutting-edge researchers, advocacy programs, and people creating policy. Recent speakers include UC Berkeley's Richard Walker discussing his book Pictures of a Gone City: Tech & the Dark Side of Prosperity in the San Francisco Bay Area, and Rutgers University's Zaire Dinzey-Flores. Dr. Dinzey-Flores also led a special seminar for students; her talk "The Price of Race in Real Estate," was co-sponsored with Philosophy, as part of a joint series on "Race and the Just City."  
On alternating weeks when there is no lecture scheduled, the UPA Colloquium — which is a required element of the curriculum for all students — offers an important space for weekly communal gathering across cohorts. Students strengthen bonds while engaging in training on essential topics to support their career development, including interview practice and networking with alumni.
"We have been so pleased to see the way the colloquium is bringing our students together," says professor and program director Rachel Brahinsky. "Everyone is very busy, with work, classes, internships, and family life. This is one moment each week where everyone can gather, connect and share, intellectually and socially."
Upcoming events can be found on the program's homepage.