Engaged Learning
Undergrads Collaborate With Faculty, Coauthor Article On Hydrocarbons
Last year, current student Gail Vinnacombe '16 went from being only an undergraduate in USF's Chemistry major to both a Chemistry major and a published author in a respected, peer reviewed scientific journal.
In August, professors Claire Castro and William Karney published an article in the Journal of Organic Chemistry, "Stone–Wales Rearrangements in Hydrocarbons: From Planar to Bowl-Shaped Substrates," and listed as coauthors were two former USF undergrads, Erica Irace ('13) and Eva Brayfindley ('14), and Vinnacombe.
Becoming Involved
The Chemistry Department at USF offers an undergraduate research course (CHEM 397) in both the fall and spring semesters. The purpose of this course is to aid students in summarizing work in the form of research reports, and to inform students of meetings and events at which students can listen to talks and present posters. Vinnacombe has enrolled in this course four times.
"Drs. Castro and Karney hired me during the summer after my sophomore year, and I was assigned the Stone-Wales Rearrangement project as a continuation of Eva Brayfindley's work," Vinnacombe said.
In addition to the Stone-Wales Rearrangement Project, she has also worked in the Chemistry Department's stockroom, and as a lab assistant for the Environmental Science Department.
Contributing
While working for Castro and Karney, Vinnacombe learned how to use industry-standard software, Molcas and Molpro, to carry out calculations.
"From my calculations, I was able to contribute data for various mechanistic pathways for Stone-Wales rearrangements in pyracyclene, semi-buckminsterfullerene, and buckminsterfullerene," she said. "This included locating geometries of key transition states, and comparing their energies to the starting material and product."
She also used calculations to probe numerous possible mechanisms for the Stone-Wales rearrangement of a series of curved hydrocarbons.
"The molecules in the series exhibit increasingly bowl-shaped geometries," professor Karney said. "Which is important for researchers developing nanotubes."
Vinnacombe's results showed that the degree of curvature influences the relative barrier heights of the different possible mechanisms, Castro said.
All three students were involved in reading the primary literature, generating the data and interpreting results.
"Along the way," she continued, "they needed to do extensive troubleshooting while performing calculations using a wide array of computational techniques."
"The students also," Castro added, "drew on a lot of organic and physical chemistry concepts in order to track and characterize a unimolecular pathway from its starting geometry, through its transition state, to its final product."
Uncommon Opportunity
Of the 20 research articles included in the special issue of the journal, Castro and Karney's Stone-Wales article was the only one from a primarily undergraduate institution. The others were all submitted from PhD-granting universities, according to Karney.
"In the area of computational organic chemistry, there are few other liberal arts institutions where undergraduate students have articles published in high-ranking peer-reviewed publications, such as the Journal of Organic Chemistry," Karney said.
"I didn't expect to have my work published," Vinnacombe said. "But I was very excited when I learned that Drs. Castro and Karney were working on a manuscript for the Stone-Wales Rearrangement project."
Continuing Support
Moreover, Karney added, the Castro/Karney group is unusual in that there are no graduate students mentoring or supervising the undergraduates. The faculty work directly with the students in the lab.
This intense faculty-undergraduate relationship allows our students to mature in chemistry, and generates a very close personal relationship between our students and ourselves.
"As a result," Castro said, "we can help them with the big, post-USF decisions such as whether to get a job or apply to grad school, and if the latter, which schools to apply to. We try to keep in touch with our students as they enter their post-USF endeavors."
"Drs. Karney and Castro are very supportive research directors, and they have high expectations for us," Vinnacombe said. "This undergraduate research has ultimately increased my interest, ability, and self-confidence as a chemist."
Vinnacombe will begin her pursuit of a PhD this fall, having already been accepted to numerous schools, including UC Davis, UC Irvine, and UCLA.
Stone-Wales Rearrangement Project
Culminating in the article, the research project focused on understanding carbon-carbon bond rearrangements of carbon-rich systems, according to Castro.
"Specifically, the work elucidates the mechanisms of Stone-Wales transformations—a well-known phenomenon to organic chemists, but poorly understood," she said. "Such reactions can occur at temperatures of 1000°C and higher during the combustion of fuels, and can lead to carcinogenic substances such as polycyclic aromatic hydrocarbons."
Additionally, these rearrangements occur in the syntheses of desirable carbon-rich materials such as carbon nanotubes.
"Thus," Castro continued, "understanding how carbon-carbon bonds break and re-form under high temperature conditions can lead to, firstly, better pollution prevention and, secondly, more efficient preparation of novel materials."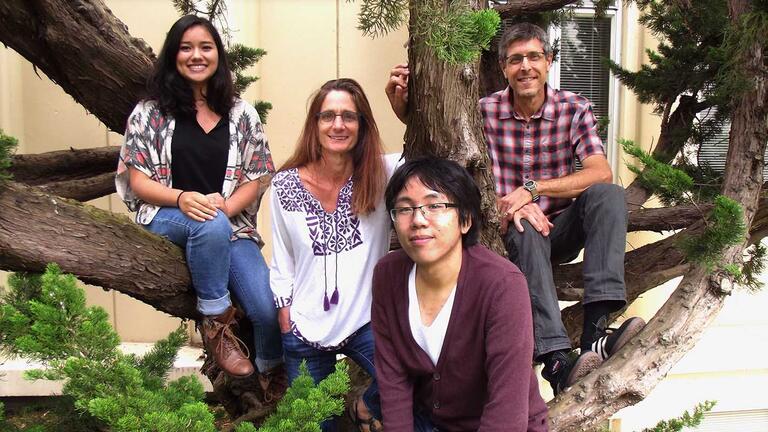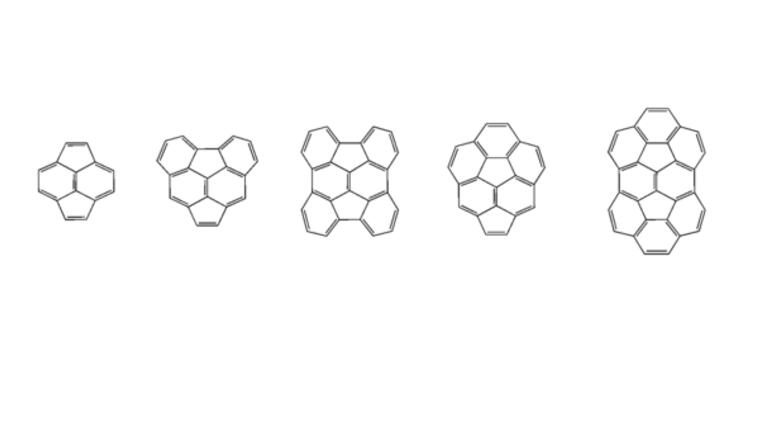 Left to right: Gail Vinnacombe, Prof. Claire Castro, Simon Luo, Prof. William Karney.
Gail Vinnacombe (left) and Simon Luo (right) in front of the poster they presented at the American Chemical Society National Meeting in Denver, March 2015.
This graphic depicts the series of hydrocarbons studied computationally by Vinnacombe and coworkers.