Engaged Learning
Twins on a Mission
In the city and in their schoolwork, these sisters serve the common good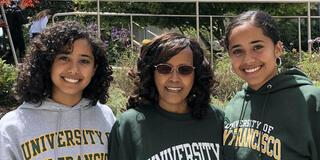 When Merhawit and Meseret Mehzun were looking at colleges, they each had the same wish — to attend separate schools. But after a college-tour trip during high school, each twin, independent of the other, ranked USF as her top choice.
Why USF?
"The idea of giving to others, working for the greater good, it all lined up with how we were raised," Merhawit said.
Merhawit, who goes by Merha, and Meseret, who goes by Mercy, are now students at USF, class of 2023. Inspired by their mother and by USF's culture of service to others, they are both pursuing public service — in separate ways.
A Way of Life
Merha, an international studies major with a minor in architecture, is a policy fellow at Brightline Defense, a nonprofit in San Francisco that pursues environmental justice. She works on the policy research team, investigating the ways offshore wind can power California and generate green jobs.
Mercy, a communication studies major, is an intern with the San Francisco Department of Public Health. She works in the population health division on a biweekly newsletter sent out to employees.
Through their work in the city and in school, Merha and Mercy channel their mother, Tsega Habte. A pharmacist and longtime community volunteer in Los Angeles, Habte last year organized clinics that enabled thousands of Black residents to obtain the COVID-19 vaccine. The twins helped her by getting the word out to the media and setting up a YouTube channel.
"This idea of helping the greater good was just part of our childhood, part of how we grew up," Mercy said. "It's just how things are in the Eritrean community, and we came to college with that mindset."
Next Steps
Although Merha doesn't know exactly what she will do after college, "environmental justice feels like an area where I should be working," she said.
Mercy wants to work in health communications. "Women's health or generally helping underserved communities, particularly the African diaspora community, with access to health information and access to resources," she said.
"USF is lucky to have students like Mercy and Merhawit who have already lived the Jesuit mission of being 'a person for others' through the example of their mother," said Evelyn Ho, professor of communication studies.