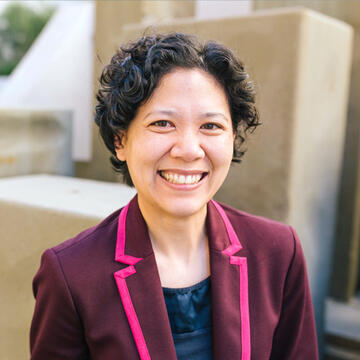 Biography
Evelyn Y. Ho is a professor of communication studies, Asian Pacific American studies, and critical diversity studies. Beginning with an understanding that communication is a cultural activity and that health care systems and beliefs are profoundly cultural, Professor Ho's teaching and research focus broadly on the intersections of health, culture, and communication, with a specific focus on the use and cultural meanings of acupuncture and Chinese medicine in underserved communities. She has led and participated in grant-funded research projects examining Chinese American dietary practices, health beliefs, and communication preferences and patient education that integrates Chinese medicine and biomedicine. You can find that work at INCguide.org.
Dr. Ho is co-editor of the Wiley International Encyclopedia of Health Communication and has previously chaired both the Health Communication Division and the Language and Social Interaction Division of the International Communication Association (ICA). She serves on the editorial boards of Health Communication, PEC Innovations, Journal of International & Intercultural Research, and the Journal of Intercultural Communication Research.
Expertise
Qualitative research
Patient education
Community based research
Applied research
Research Areas
Health communication
Cultural communication
Language and social interaction
Complementary and integrative health
Asian Pacific American studies
Patient health education
Appointments
Co-Director, Honors College
Interim Program Director, Anthropology Minor
Education
PhD/MA, Communication Studies, University of Iowa
BA, Speech Communication, University of Washington
Awards & Distinctions
University of Washington Alumni Hall of Fame, 2022
University of San Francisco College of Arts & Sciences Deans Scholar Award, 2022
University of San Francisco Distinguished Research Award, 2021
Integrative Medicine for the Underserved (IM4US) Research Innovation Award, 2019
University of San Francisco Faculty Service-Learning Award, 2012
Selected Publications
Koenig, C. J., Vasquez, T. S., Peterson, E. B., Wollney, E. N., Bylund, C. L., & Ho, E. Y. (2023). Mapping uncharted terrain: A systematic review of complementary and integrative health communication using observational data in biomedical settings. Health Communication.

Winchatz, M., Sprain, L., & Ho, E. Y., (2023). A spectrum of speech codes: Review of thirty years of empirical research for methodological insights. Annals of the International Communication Association.

Ho, E. Y., Leung, G., Lauer, B., Jih, J., & Karliner, L., (2022). Complementary and integrative healthcare communication in Chinese American patient/primary care visits: An observational discourse analysis. PEC Innovation, 1, 100082.

Ho, E. Y., Agne, R., Santana, T., Thompson, N., McClendon, G., Ng, E., Merrick, S., Gonzalez, F., Smith, T., Drewke, K., Gutierrez, A., Floyd, G, & Chao, Maria T. (2021, online first). A communication perspective on what patient advisory boards do: Action-Implicative Discourse Analysis and the dilemma of advice. Journal of General Internal Medicine. 
Ho, E. Y., Leung, G., Chao, M. T., Pritzker, S. E., Hsieh, E., Chi, H.-L., Chan, D., Huang, S., Ruan, Q., & Seligman, H. K. (2020). Pilot cluster randomized controlled trial of Integrative Nutritional Counseling versus standard diabetes self-management education for Chinese Americans with type 2 diabetes. Health Equity, 4, 410-420.