Giving
Students Zoom to Class, Thanks to Partnership with Silicon Valley Tech Company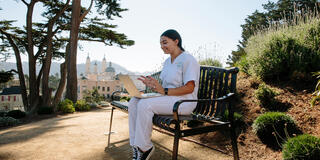 Elizabeth Elnemr is a busy nursing student at USF. She has clinical rotations at a local hospital, she works more than 30 hours a week on campus, and she's finishing up her B.S. degree in May and graduating. She also volunteers at a health clinic in the city.
So, when it came to meeting up with one of her professors, Dr. Margaret Hansen, for office hours, Elizabeth just didn't have any extra time. She was able, however, to schedule a face-to-face meeting with Dr. Hansen on Zoom, the university's video communications tool.
"I wasn't able to make it to her regular office hours," Elizabeth said. "I logged into Zoom, and we were able to see each other and meet. The connection was really good, and it was a good meeting."
That's exactly what USF was hoping for — more opportunities for students, more engaged learning — when it partnered with Zoom, the San Jose tech company that provided video conferencing to the university as an in-kind gift, says Opinder Bawa, chief information officer at the university.
"This kind of gift allows us to bring the best and the latest technology to the students," he said. "Zoom has given us the value of sharing information and communication in a busy world."
Inside and Outside the Classroom
USF was one of the first universities to implement Zoom's video communications platform, when it partnered with the company in 2014. Today, USF is a model for using the cloud-based video and audio tool, both inside and outside the classroom. It also is a way for classes and staff to meet, whether they are at main campus, at the Downtown Campus at 101 Howard Street, or at the university's campuses in Orange County, Pleasanton, Sacramento, San Jose, and Santa Rosa. As USF implements a strategy of one university with dispersed campuses, Zoom has become an essential tool. 
"I am proud to provide Zoom's video communications services to the faculty, administration, and students of the University of San Francisco," said Eric S. Yuan,  founder and CEO of Zoom Video Communications, Inc., based in San Jose.
"The schools' global and part-time programs running on Zoom benefit both the students — who might not be able to complete their education in a traditional classroom setting — and all the lives those students touch as nurses, educators, and other professionals," he added.
Having better technology to reach students means providing more opportunities for people to go to school and stay in school, he said.
So how does it work? Once you have the Zoom app installed, you can choose to sign in or join a meeting. Once you are signed in, you can host, schedule, and join meetings. You can also chat with contacts via group messaging. The app also works on iPhones and iPads, and there is an Android app available.
"These are the types of technologies they're going to use in the corporations where they work, after our students graduate," said Bawa. "We can do a better job of training and educating the current student population — and have a tangible impact on their lives — by letting them experience tech tools that they'll be using in their careers."
It's All About Communication
Elizabeth, 22, is now in a new class that meets on Zoom in a forum where everyone is visible on the screen. She is comfortable going to class that way, and she says most other students are, too.
"Students are comfortable video chatting," she said. "It's a lot quicker and more efficient and effective than emailing back and forth."
Dr. Hansen, the professor whom Elizabeth met for office hours on Zoom, agrees. Many classes, she said, have elements that incorporate both classroom and video conferencing.
"I teach the social media and health education class," added Hansen. "For our presentations at the end of the semester, we all come together on video conferencing, and the students present online on Zoom."
Hansen, a 2012 Fulbright scholar who teaches Nursing Research and Healthcare Informatics at the undergraduate and graduate levels , said Zoom ultimately is a good way for students and faculty to communicate.
"I offer video conferencing to our students so that they have a sense that they are welcome to communicate with me anytime or anywhere," she said. "I like face-to-face communication. I really do think it's all about communication."
Learn more about how Gifts support students
This gift was made in support of Changing the World from Here: Campaign for the University of San Francisco.