Faculty & Staff Achievements
SONHP Professor Wins Award From the California Association for Nurse Practitioners
Alexa Colgrove Curtis recognized as a champion of nurses in rural communities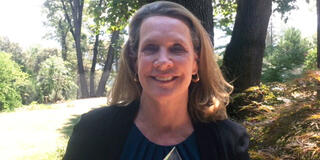 USF's Alexa Colgrove Curtis PhD, MPH, FNP, PMHNP received the Bridging Health Care Needs Award from the California Association for Nurse Practitioners (CANP).
In an interview with CANP, Curtis — assistant dean of graduate nursing, professor, MPH-DNP dual degree director, and co-chair of the CANP Health Policy and Practice Committee — said that she has always focused on youth and rural communities.
In the last four years, she collaborated with an interprofessional team to start a treatment center in a rural area to treat opioid use disorders and other addictions.
As a professor at the USF School of Nursing and Health Professions, she focuses on developing a workforce for underserved, rural communities, particularly to address substance use disorders.
Under an HRSA grant, she is working to increase the number of nurse practitioners in rural communities, with abilities to undertake mental health, substance use disorders, and other health matters such as childhood obesity and telehealth.
Curtis has also led some global work. She helped to open the Uganda Nurse School in Bwindi and has facilitated USF learners to work with the Bwindi team to improve access to care and lead bi-directional learning.
Most recently, in collaboration with La Ibero-Americana in Tijuana, Curtis and USF DNP students will do a similar shared learning program to prepare both groups of nurses to meet the needs of migrants in California.
When asked about the National Academies of Sciences, Engineering, and Medicine's new report, "The Future of Nursing 2020-2030: Charting a Path to Achieve Health Equity," Curtis spoke about how the report affirms how communities are better served when nurse practitioners work without practice barriers and that the quality of care nurse practitioners provide is equal to that of interprofessional colleagues and, in some cases, better.
"There are barriers to anything you want to do that is meaningful and innovative. We are framing barriers as challenges that can be handled with collaboration and persistence," said Curtis.
Curtis emphasized how nurse practitioners want to fill in the health care gaps across communities. For her, nurses are natural advocates anyway. They are taught from day one in nursing school that they are their patient's advocates. Then, their advocacy expands to populations, particularly when it concerns underserved populations.
For Curtis, if you want to be an advocate for the community, you have to become involved in political advocacy and move policies forward, such as AB 890 (Wood), that can unleash the potential of nursing and nurse practitioners to bridge the health care needs of communities, she said. In 2020, CANP and its members achieved a monumental victory with the passage of AB 890, legislation that allows nurse practitioners to practice without physician supervision in California. The organization is now working to implement the bill.
"CANP supports nurse practitioners to move the profession forward and meet the health care needs of their communities," said Curtis. "It has just been a tremendous honor to be a nurse and a nurse who also works in academia."