Equipped to Lead and Succeed
School of Nursing and Health Professions Celebrate its Annual Health Professions Day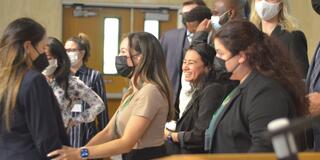 On August 12, 2022 the School of Nursing and Health Professions celebrated its annual Health Professions Day at the main campus and Orange County campus.
Eighty-five graduating students from the Master of Public Health program presented their capstone papers and findings. It was truly amazing to learn from these students. The following are selected examples:
Judith Natukunda, Child Health in Darfur, Sudan: Addressing the Effects of Armed Conflict on Children's Health in Darfur.
Aniekan K Ekanem, Identification of adverse childhood experiences and their linkage to negative health outcomes.
Gwen Anderson, Meet Me in the Middle: A Scoping review on understanding adolescent needs in climate communication.
Magalli Larqué, Racism as a Public Health Crisis.
Theresa Hayes, Modern Day Colonization: Gentrification as a Public Health Emergency and its Impact on Health, Safety, and Wellbeing.
Blanca Garcia-Silva, Reducing the Digital Divide: Why Culturally Relevant eHealth Interventions Can Reduce Latino Health Disparities.
Rocio Arjon, A Growing Need to Protect Our Youth from a Life-Long Addiction (A Policy Reform).
The breadth and depth of their work presented speaks for itself. Congratulations to all students and their faculty advisors!
After the presentations, Dr. Laura Chyu, Statewide MPH Program Director and Assistant Professor, opened the afternoon program, and was followed by Dr. Erin Grinshteyn, Associate Dean for Health Professions and Associate Professor. Dr. Grinshteyn highlighted the relevance of our work to educate health professionals who better understand health data, can develop policies and design and manage health information systems, know how to communicate health information, and will lead us in our efforts to protect and improve the health and wellness of communities.
 
Then keynote speaker Dr. Tomás Aragón, Director of the California Department of Public Health and the State Public Health Officer, described three public health essentials: 
Humility and curiosity over certainty; 
Embrace inquiring before advocacy; and 
Develop decision intelligence. 
Following Dr. Aragon's keynote address, the following selected students were recognized for their outstanding academic, professional, and service accomplishments:
Dr. Kelly McDermott presented the Social Justice Award to Stephanie Yang. Stephanie has long been devoted to reducing health inequities in her personal, professional and academic work. She co-founded Hmong Innovating Politics, a grassroots organization in Sacramento that uses strategic mobilization to affect change in local voter engagement, youth leadership, parental engagement, education, advocacy, and coalition building for the Hmong community. She expanded their impact by providing access to healthcare through Covered California's Navigator Grant Program. Currently, Stephanie affects change through her work at UC Davis Department of Pediatrics, managing research to improve the care for moms and babies with opioid use disorder in rural areas and assessing the impact of tele-behavioral health in American Indian populations. Her academic pursuits also inspire us. She interviewed the renowned author of the Spirit Catches You and You Fall Down, Anne Fadiman taking a public health strategy lens to healthcare in the Hmong communities. For her final paper, she analyzed Community Benefit policies in nonprofit hospitals, arguing for policy reformations to ensure meaningful investment to move the needle on social determinants of health. Stephanie's academic contributions, leadership in advocating for the Hmong community, and professional work advancing social justice across California's diverse populations deserved to be recognized with the Social Justice Award.
Professor Boughton-DeBencik presented the Capstone Award to Saffia Jallow for her paper "Maternal Mental Health: Strategies to Address Structural Barriers to Treatment Access in Sacramento County." Saffia's capstone paper brings the voices of study participants forward to demonstrate the implications of bias in the health care system and the ramifications when women are unable to seek or receive the treatment they need. This paper takes a deep dive into the experience of new mothers in the Sacramento region from the Black/African American and Latina populations and makes several recommendations, including the need for an empathic screening process that facilitates discussion of mental health concerns among hesitant moms to promote help-seeking actions and culturally appropriate treatment responses. It is clear that this student put considerable effort into analyzing the data, setting the context, and putting forth important and persuasive recommendations for change aimed at addressing a troubling public health issue that has significant ramifications for mothers, children, families, and communities across the United States.
Dr. Taryn Vian presented the Spirit of Public Health Award - Community and Public Health Practice to Kari Koller. During her academic work, Kari demonstrated her passion for deep diving into issues of intersectionality and inclusiveness. Kari's core strengths are being high-achieving, strategic, and innovative. In her Applied Practice experience, she worked with a company providing integrated services to trans and non-binary folk. She conducted focus group discussions to inform and build a social media awareness campaign. In her final capstone paper, she extended this work to document the lack of diverse pathways to healthcare currently available and to propose more gender-affirming services for this population. She is an authentic and dedicated leader and advocate for the education of health professionals about LGBTQ+ health and wellness.
Dr. Kelly L'Engle presented the Spirit of Public Health Award for the Behavioral Health concentration to Miguel Dueñas. Miguel is positive, inclusive, and an engaging public health ambassador and behavioral health professional. His APEX internship let him showcase his care and passion for diverse communities of young people, which he has carried into his ILEX paper and year-long project studying eco-anxiety and climate change activism among youth. During his time in the MPH program, Miguel has grown tremendously and absolutely embodies the spirit of Behavioral Health - and we are excited to launch him into the behavioral health workforce where he is quickly embraced and appreciated by all his peers and colleagues.
Dr. Kelly McDermott presented the Spirit of Public Health Award for the Health Policy Leadership concentration to Shirley Lam. Shirley demonstrated her academic acuity and unparalleled enthusiasm. Shirley provided invaluable support for Biostatistics students to tackle and master one of the most difficult courses in the program. She completed her project at the Insure the Uninsured Project, a nonprofit in Sacramento promoting innovative and workable policy solutions that expand health care access and improve the health of all Californians. Shirley has been highly praised by the organization's renowned leadership for her substantial contributions.
Dean Eileen Fry-Bowers presented the Dean's Medal for Promoting Professionalism in the MPH Program to Lexi Nutkiewicz. Lexi demonstrated her professionalism in her academic courses and work. Her peers look to Lexi for leadership - which she expresses both quietly and publicly. Lexi is also a Student Ambassador, a panelist in many SONHP and MPH events for current and prospective students and USF Alumni. Lexi helped Health Promotion Services initiate the Dons Helping Dons program at USF in March 2021, a student peer-led public health ambassador initiative, which supported students and our USF community during the COVID pandemic to promote positive behaviors, such as the importance of getting vaccinated and wearing masks. 
Dr. Laura Chyu shared the student inductees into the chapter of the Delta Omega Honorary Society in Public Health at USF. The Delta Omega Honorary Society in Public Health is an international organization that recognizes excellence in academic achievement, practice, research, and education in the field of public health. The new student inductees are: Brianna Agnew, Parisa Broomandkhoshbacht, Aidan Byrnes, Jasmine Kang, Jaelen Kennedy-Valdez, Karin Koller, Shirley Lam, Natalie Lopez, Elizabeth Maestretti, Patricia Martell, Zainab Munib, Maria Nelson, Alexis Nutkiewicz, Monique Rubalcava, Jocelyne Saldana, Shanelle Sanchez, Raha Shahroodi, Naomi Tesfaiohannes, and Tammy Tran.
Felicitations to the awards recipients and graduating students!!! Their work in public health is critical to the current and future well-being of our local and global communities. They are all prepared to continue making a positive impact on public health. We can't wait to see how they will change the world from here!