Giving
Setting the Stage for Future Nurses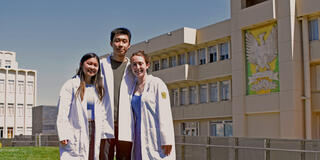 The National Association of Theatre Owners of California/Nevada (NATO CA/NV) has been awarding scholarships to employees of the association's member theaters for over twenty years. But in 2021 with the Covid-19 pandemic and the increased emphasis of the importance of health care workers, the organization pivoted from the entertainment industry to establish a four year scholarship for five students in the University of San Francisco's School of Nursing and Health Professions of $200,000.
The five Bachelor of Science in Nursing candidates who received the scholarship are in their sophomore year at USF, and already they have had a chance to impact the community by administering Covid-19 vaccines and boosters in USF's Koret Gym working alongside faculty and current Kaiser Permanente healthcare staff.
Choosing USF
The NATO CA/NV organization chose USF's nursing program for the very same reason that sophomore Dustin Bui '24 chose it: the school is in the top 4 percent in the nation, training pragmatic problem solvers and transformational leaders, who are prepared for the challenges of an evolving health care system. After extensive research, Mitlon Moritz, recently retired President of NATO CA/NV at the time, said that USF's nursing program was one that NATO CA/NV felt was a worthy program that they would like to get involved in.
Bui agrees. He chose USF because "USF School of Nursing and Health Professions is full of experienced and knowledgeable staff members who I felt would make an impact in preparing me for my future." He appreciates the hands-on education experiences supplied by his clinical rotations.
Fellow student Kendall Bloa '24 is from the Bay Area and knew she wanted to stay local. During her campus tour at USF she loved the Simulation Center/Skills Lab as well as the curriculum.
"The connections between USF and the hospitals in the area is also great for being a new grad," Bloat said.
Scholarships Make the Difference
Although the recipients had already been accepted to USF these scholarships made the difference. For Bui, who had already chosen USF, the scholarship allowed him to focus on his academics without the added layer of financial stress. He said that the nursing program is one of the most difficult things he has ever done, but it is also one of the most rewarding. His favorite part of the program is clinical rotations.
Bui said, "The rotations have enabled me to see the practicality of information learned about in textbooks, presentations, and diagrams. Being able to care for patients and absorb knowledge alongside nurses, doctors, and therapists has been beneficial for my learning.
Bloat is also grateful that the scholarship created access to afford her education, and she loves her time at USF. She has joined the Women's Nursing Society and Tri-Gamma, the all female nursing student sorority. Her favorite part of the program is also clinicals.
"Being able to go into hospitals and make the student nurse-patient connections while also bonding with my cohort and practicing skills we learn at a mediated pace is a great learning experience," she said.
Andrea Huang '24, another recipient, said that while working part-time in a nursing home helped her gain more experience, this scholarship afforded her the privilege of not taking out a loan.
Nurses Can Change the World
For Bui, Bloat, Huang, and their fellow recipients Isabella Knapp and Mi Le, the pandemic and zoom university were small steps on their journeys in healthcare. Their second year at USF with its rotations, labs, and in person classes has been a welcome change. The pandemic highlighted the need for nurses, and healthcare professions and students are stepping up. In 2021, the number of applications to USF's School of Nursing jumped from 2068 applicants in 2020 to 2434 in 2021. The number of transfer applicants also rose from 526 to 596. USF's robust program offers the opportunity to learn in the classroom and then immediately put those skills to use in the community. Like all of their peers in the cohort, Bui, Bloat, and Huang are focused and energized to learn and grow.
For NATO CA/NV, the pandemic decision to temporarily move from supporting entertainment industry students to nursing students is already paying off with these motivated scholars.
This gift was made as part of Changing the World From Here: Campaign for the University of San Francisco. To learn more about supporting the School of Nursing and Health Professions, contact Jayme Burke, Director of Development, School of Nursing and Health Professions at (415) 422-4049 or jlburke3@usfca.edu.