Campus Life
How Does It Feel to Be a Senior Right Now?
The Class of 2020 faces unprecedented postponement of commencement, internships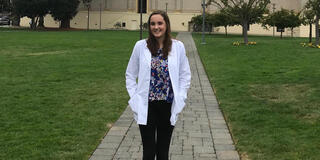 They were looking forward to their last two months at USF. They had plans. Now, though, they are dispersed across the country — and the world — and trying to pick up the pieces of their senior year.
"As we went into spring break, I was ready for the last two months of my college career to be the best yet, but due to this situation we're in, I was robbed of that," said Andrew Hirsch '20, a communications studies major. "As a second semester senior, I was devastated that the time we all had left together was cut short."
At USF — as with most universities in the country — classes have moved online, and students have moved off campus and gone home because of the coronavirus and the need to shelter in place. Commencement has been postponed.
For Maxine Taylor '20, a design major, it's been frustrating. She has worked to put herself through college, and now was supposed to be her time to celebrate.
"But there's nothing that we can really do about it," she said. "We're all in this together. And, I mean, I'm still going to get a diploma."
A Time of Transition
Staying in touch with friends from USF is important, Taylor said.
"We're all just trying to figure this out," she said. "Everyone has basically gone home. It's definitely a transition. School and home have been very separate for me. So, for those worlds to come together is very strange. We just try to laugh about it, and we stay in touch on social media."
Seniors aren't the only ones missing the campus experience. First-year students, too, are wondering how to salvage the year.
"Right now, I'm sitting in my house in Walnut Creek and I'm glad to be home, but I'm sad that I cannot have a complete, authentic freshman college experience," said Jillian Nixon '23, a biology major. "Overall, I'm going to miss all of the friends I made and all my amazing professors at USF."
Seniors Regroup
Seniors, though, face added uncertainty after graduation. Some are hearing that their summer internships are being canceled, delayed, or moving online, said Alex Hochman, senior director of the Career Services Center at USF.
"But we're working with our seniors and meeting with them in one-on-one counseling sessions on Zoom," said Hochman, who urged seniors to contact the Career Services Center. "We have our first Zoom workshop this week. And, over 20 employers have scheduled virtual info sessions utilizing Handshake/Zoom."
For senior athletes, Athletic Director Joan McDermott '71 wanted to show USF's appreciation for their hard work and dedication as Dons.
"Thank you for everything you've given to our university and our athletic department," she said in a 2020 Senior Farewell video. "You are fantastic at representing all of us."
Meanwhile, some USF nursing students are joining a petition calling on state regulators to ease requirements for students nearing graduation so that they can help with the Covid-19 pandemic.
Nursing student Julia Niven '20 told KQED radio she is eager to help in hospitals and signed the petition.
"I want to be in a hospital right now," she said. "I understand there's a risk. If I can help in any way, this is something I want to do."