Alumni
Remembering Rosary Celaya Castro-Olega '78
First Health Care Worker to Die of COVID-19 in LA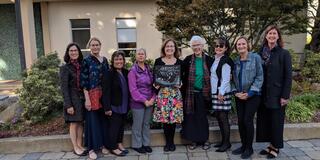 "Lost on the Frontline," a collaboration between Kaiser Health News and The Guardian, has identified 1,293 health care workers who likely died of COVID-19 after helping patients during the pandemic. USF News is publishing Rosary Celaya Castro-Olega's story in partnership with KHN and The Guardian.
Rosary Celaya Castro-Olega
Age: 63
Occupation: Traveling registered nurse
Place of Work: Various hospitals in Los Angeles County
Date of Death: March 29, 2020
Rosary Celaya Castro-Olega wasn't what you'd call shy. At her daughter's basketball games, she was the loudest voice in the bleachers. She dressed head-to-toe in purple: purse, glasses, phone, scrubs. She was Kobe Bryant's No. 1 fan. And she loved sharing stories with patients.
Her oldest daughter, Tiffany Olega, recalled meeting her mother's patients.
"They'd say, 'Your mom has told me all about you!'" she recounted. "She didn't just do her rounds and disappear."
Even after retiring in 2017 from Cedars-Sinai Medical Center, she couldn't stay away. She filled in at hospitals that were shorthanded. In between, she traveled the globe. In 2019, she visited Germany, Japan and China.
She had a cruise planned in March. When it was canceled because of the coronavirus, she took shifts at various hospitals in Los Angeles County, hoping to help out. Olega doesn't know if her mom cared for COVID patients. But Castro-Olega and her twin daughters — Olega's younger sisters — developed symptoms in mid-March. All three wound up hospitalized. Castro-Olega never came home.
Los Angeles Mayor Eric Garcetti honored her as the first health care worker to die of COVID-19 in L.A. County.