Research
Rare Book Exhibition Displays Colonial Attempts At Disproving Ethnographic Prejudices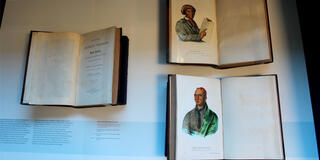 Printing and the Pursuit of Native Knowledge 1720–1850 is a new exhibition currently running in USF's Donohue Rare Book Room, inside Gleeson Library. It showcases a selection of publications from authors and publishers of the 1720-1850 period who hoped to disprove western ethnographic prejudices of their time.
According to exhibition curator Associate Professor Stuart D. McKee, during the eighteenth and nineteenth centuries, British, French and American colonial agents traveled to Asia, Africa, the Americas, and the Pacific and recorded what they experienced of the indigenous peoples there. They worked to disprove western prejudices by augmenting the western intellectual tradition, by encapsulating the native conceptions of cultivation and learning, to educate the West.
The volumes on display feature maps that illuminated native knowledge of geography; vocabularies and a dictionary that broadened Enlightenment notions of philology; and engravings that documented native society and culture in action.