Equipped to Lead and Succeed
Pursuing Her Dream
A conversation with Marsha Rose
In a conversation with Marsha Rose, she shared experiencing an insecure upbringing. Her experience of being the child of a single mother with addiction problems has undoubtedly impacted her adult life and is the foundation for becoming a nurse.
Image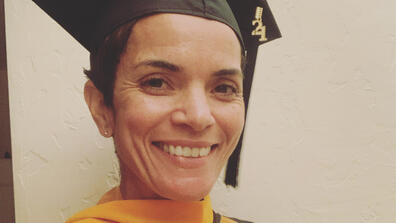 Marsha described herself as a caregiver from a very young age. She has always admired nurses' skills, patience, and capacity to connect with even tricky patients. As a child, she perceived hospitals were where people got all the needed attention (wouldn't that be wonderful). During a hospital visit with her mother, she observed the Emergency Room nurses at work. She marveled at their skill, patience, and kindness towards her mother and felt like she could and wanted to help people and their families in the same way. 
Marsha dropped out of high school, moved out of her home, and started working full-time when she was 16 years old. When she was 19 years old, she completed her GED and started working towards her associate's degree at Laney College. Her plan was to apply to nursing programs, but after being accepted to the University of California Berkeley with a full scholarship, she decided to change her focus and pursue a bachelor's degree in American Studies with a concentration in Public Health and a minor in Public Policy. Marsha graduated from UC Berkeley in 2008 and was the Valedictorian of her graduating class. She gave her Valedictorian speech at the Greek Theater just six weeks after giving birth to her son, Maceo Rose. Marsha did not pursue a career in Public Health, but instead focused the next 10 years on raising her son, teaching yoga, becoming a nutritionist, and eventually starting her own business as a Health Coach and Personal Trainer. Marsha explained how being a high school dropout was a source of shame for her, but the accomplishment of being the Valedictorian of her graduating class and giving the speech changed the trajectory of her life and gave her the confidence she needed to later apply to nursing school.
After years of wanting to apply to nursing programs but never feeling like it was the right time, Marsha was in a terrible car accident that could have taken her life. It was after this accident, she realized that life is too short and it was time to pursue her dream. Although it was a costly program, Marsha was thrilled to be accepted to the University of San Francisco because of it's excellent reputation. From the beginning the University of San Francisco provided a connection with a real person who cared and listened to her situation and goals. She enjoyed the intimate nature of the beautiful campus and the support she received from many of her professors and faculty members.
"I felt I belonged, included, and never lost. I was in a cohort with like-minded people, and we were all in it together! I was connected."
In class, as Marsha learned about the Jesuit principles and as these pertain to nursing, it felt like a no-brainer.
"At USF you learn that nursing is caring for the whole person, which seemed like a no-brainer to me, but as I did my clinical rotations, I realized not everybody learns this, and it is not common sense. It needs to be explicitly taught to some people because they do not understand they are treating the whole person. This is one of the things that sets USF apart from other programs."
Through the program, Marsha experienced this care from faculty and staff but particularly from Dr. Angela Banks, who always went beyond the call of duty. 
"Dr. Banks is my role model. From the first minute I saw her, I wondered who is this powerhouse human?"
Dr. Banks showed up in ways Marsha had never experienced before in any school. Dr. Banks not only saw Marsha but authentically cared for her. 
"Dr. Banks said 'I got you, I am here for you, and I will always be here for you,' and she was."  
As a HRSA and Song Brown recipient, Marsha also experienced financial and mentoring support.  
After completing her program, Marsha prepared for the NCLEX and passed in 75 questions! She just applied to a new grad residency to gain training and confidence as a nurse and she is starting this program soon with hopes of specializing in wound care. 
"At this stage, I feel safe for the first time in my life! With nursing, this new world opened up for me. I have a never-ending amount of fantastic possibilities. As a USF-educated nurse, I'll pursue to change one person's experience and life at a time."