Engaged Learning
Students Help Project Election 2020
Two undergraduates work election night on the ABC News Decision Desk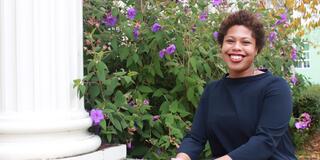 It's been a big year for Zoe Baker '21. In January, she traveled to Washington, D.C. to join the USF in DC program and begin an internship with U.S. Sen. Kamala Harris.
When the internship ended in March because of the pandemic, Baker wanted to stay involved in politics. USF in DC Director Ken Goldstein hired her and data science major Annika Cowen '21 to help him with projections of the 2020 elections for the ABC News Decision Desk.
Baker, a politics major, and Cowen helped crunch data in one of the closest presidential races in history. Their job was to give Goldstein, who was working his ninth presidential election, the information he needed to help the network project the outcome of the presidential election and the Congressional races.
"I got to play a bigger part than I could have ever imagined," Baker said. "I learned a lot, and I had a lot of fun doing it."
For Cowen, who couldn't participate in the USF in DC program this semester because of the pandemic, working with Goldstein, Baker, and ABC News was a way to follow her passion for politics.
"I knew with this presidential election there would never be another opportunity like it," Cowen said.
Big Data, Big Decisions
The students prepared for weeks, collecting data from past elections and prepping to analyze information in real time on election night. Everything they learned in their classes was put into practice, Goldstein said.
On election night, Baker and Cowen helped analyze a variety of data — indications of the early vote, polls, exit polls, and precinct results — to inform the decision making.
"They had real jobs in real time in a real election," said Goldstein. "I'm pretty confident no college students have ever been more involved in election night work projecting races."
Paul Freedman, a member of the ABC News Decision Desk and politics professor at the University of Virginia, agreed.
"They kept calm under a great deal of pressure and stayed awake and on-task throughout a long and grueling election night," Freedman said.
Making History
For Baker and Cowen, who were working from California because of the pandemic, the remote setup, combined with the three-hour time difference with New York (where Goldstein was working), made the work particularly difficult.
"Election night — there was no real way to prepare for that," Baker said.
Both students said they expected the results in the presidential race to take longer than one night. For Goldstein, this election was different than any other — mostly because it wasn't one night. He and the Decision Desk team were on call until four days after Election Day.
"If non-pandemic election nights are stressful and complicated — nonstop action in a cramped and crowded room, with history and reputations hanging in the balance of decisions that must be both accurate and fast — this one was even more so," he said. "The team worked across the length of the country and three time zones, on multiple screens apiece, for tens of hours over five days, on an election that gripped the country like none in living memory."