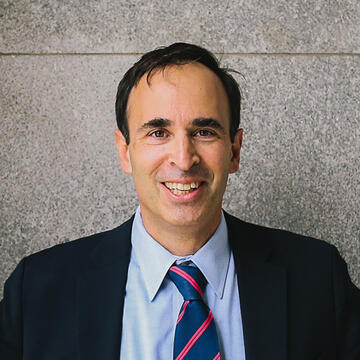 Full-Time Faculty
Academic Director
Biography
Ken Goldstein is a professor of Politics at the University of San Francisco and Faculty Director of the USF in DC program.
Before joining the University of San Francisco, Goldstein was a professor at the University of Wisconsin-Madison where he won the University of Wisconsin's Kellet Award for his career research accomplishments and the Chancellor's Award for excellence in teaching. Goldstein is one of the country's premier experts on the use and impact of political advertising. He has authored or co-authored four books, and scores of refereed journal articles and book chapters. These publications on political advertising, voter turnout, survey methodology, presidential elections, Israeli politics, and news coverage have appeared in top line political science journals and major university presses as well as in refereed law and medical journals.
Goldstein combines his academic training with an ear for real politics and strategy as well as an impressive set of contacts and extensive professional experience in a variety of media, corporate, and political settings. He served as president of Kantar Media CMAG—a non-partisan Washington DC based political consulting firm that provides media intelligence and is the source of record on political advertising for campaigns, trade associations, and the news media. In 2012, Kantar Media CMAG clients included the Obama and Romney presidential campaigns.
Goldstein has also consulted for the ABC News elections unit as a member of their election night decision team. He has worked on network election night coverage in every U.S. federal election since 1988. He was co-founder and co-director of the Big Ten Battleground Poll—a three-wave study of political attitudes and voting patterns in each of the eight Midwest states that comprise the Big Ten as well as a national survey.
More generally, Goldstein's reputation for unbiased and non-partisan analysis has made him a favorite source for politicians and the news media alike. He has appeared numerous times on Newshour with Jim Lehrer, Nightline, ABC World News Tonight, NBC Nightly News, CBS Evening News, FOX News Channel, MSNBC, CNBC and CNN, and is a frequent contributor on National Public Radio. He is also quoted extensively in the country's top newspapers such as The New York Times, The Washington Post, and The Wall Street Journal. Goldstein also hosted a weekly interview show, "Office Hours" that was broadcast on the Big Ten Network.
Expertise
Use and Impact of political advertising
Research Areas
Political advertising
Voter turnout
Survey methodology
Presidential elections
Israeli politics
News coverage
Appointments
Faculty Director, USF in DC Program
Education
PhD, American Politics and Research Methodology, University of Michigan
Prior Experience
Professor, University of Wisconsin-Madison
Awards & Distinctions
University of Wisconsin's Kellet Award

Chancellor's Award for excellence in teaching
Selected Publications
Feltus, W., Goldstein, K., & Dalleck, M. (Eds.). (2017). Inside Campaigns: Elections through the Eyes of Political Professionals. Thousand Oaks, CA: CQ Press.

Goldstein, K. (2016). The Bloomberg Politics Poll Decoder. Bloomberg.

Goldstein, K. (2016). Why Recent National Polls Should Worry Hilary Clinton. Bloomberg.

Ridout, T., Franz, M., Goldstein, K., & Feltus, W. (2012). Separation by Television Program: Understanding the Targeting of Political Advertising in Presidential Elections. Political Communication, 29(1), 1-23.

Franz, M., Freedman, P., Goldstein, K., & Ridout, T. (2007). Campaign Advertising and American Democracy. Philadelphia: Temple University Press.

Goldstein, K., & Freedman, P. (2002). Campaign Advertising and Voter Turnout: New Evidence for a Stimulation Effect. The Journal of Politics, 64(3), 721-740.

Goldstein, K. (1999). Interest Groups, Lobbying, and Participation in America. Cambridge: Cambridge University Press.