Engaged Learning
Study Abroad in a Pandemic? These Students Did
USF plans robust study abroad menu for the fall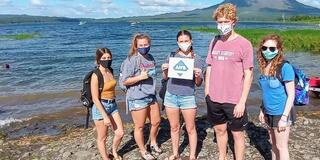 While most people sheltered in place this past year, eight USF students studied this spring semester in Africa, Central America, Asia, and Europe.
"I've been planning this for a year, so I really didn't want to postpone my study abroad. As a chemistry major this was the only time I could do it," said Danielle Marquez '22, who is enrolled in a health studies program in Costa Rica with American Institute for Foreign Study.
"They have a lot of precautions and protocols and a very good health care system here in Costa Rica," said Marquez, who is living with a host family. "I feel safe."
Global Learning
Marquez, who wants to be a doctor and join Doctors Without Borders, has been able to explore Costa Rica and enjoy learning there. "I've gone somewhere different every weekend that I've been here," she said. "It's been a great experience getting to see the country."
MaryCate Sperrazza '22 is studying in Senegal. Earlier in the semester, the country experienced unrest after the arrest of an opposition leader. But Sperrazza said she felt safe thanks to the efforts of the School for International Training, where she attends classes, and USF.
"It [political unrest] has definitely been a topic we're integrating into our classroom discussions," said Sperrazza, an international studies major and African studies minor.
Anastasia Vrachnos, associate vice provost for international initiatives, said USF works with its international partners and security consultants to make sure students are safe. "We constantly monitor places in the world where we send students," Vrachnos said.
While her classes are primarily in Dakar, Sperrazza also traveled to Gorée, an island off the coast of Dakar, known for its role in the 15th- to 19th-century Atlantic slave trade.
"Seeing it and the history — it still feels relevant," Sperrazza said. "You see impact to this day."
Safety First
Studying abroad during the pandemic has been marked by extra precautions, including mask-wearing, hand-washing, and social distancing in the classroom, both Sperrazza and Marques said. The efforts have paid off — no one in their programs has contracted COVID-19.
Normally, several hundred students study abroad each semester, said Sharon Li, senior director of the Center for Global Education. The university continues to encourage students to study abroad, she said.
"We are working with students closely for fall 2021 and spring 2022 — along with their host programs — to provide information so students can make the best decisions for themselves and their families about their study abroad plans," Li said. "There is a robust demand for study abroad and many students who deferred their study abroad last year are planning to go next academic year."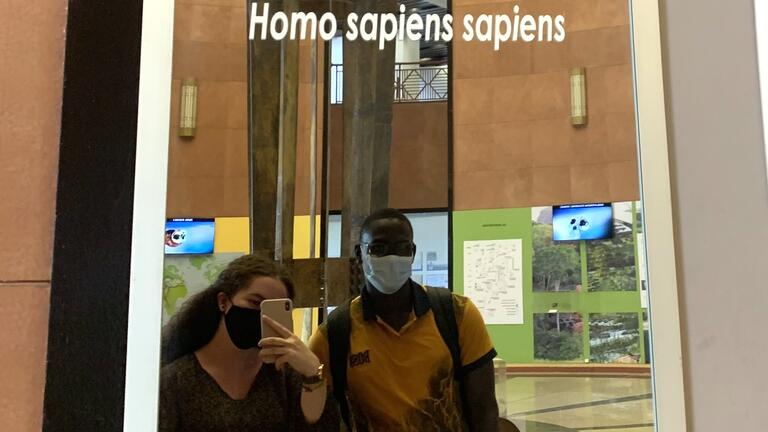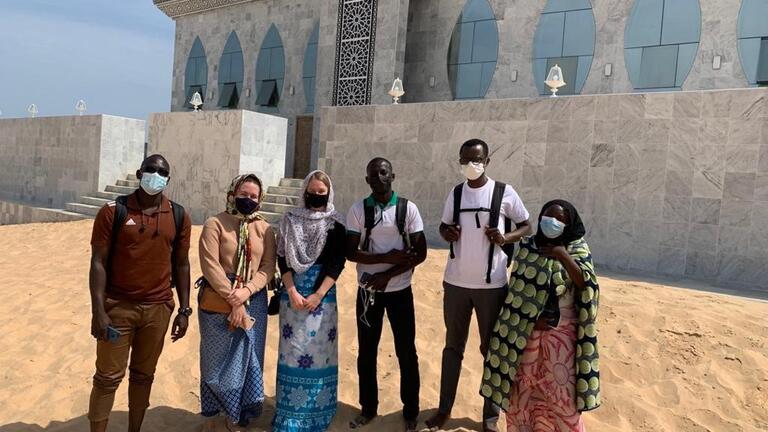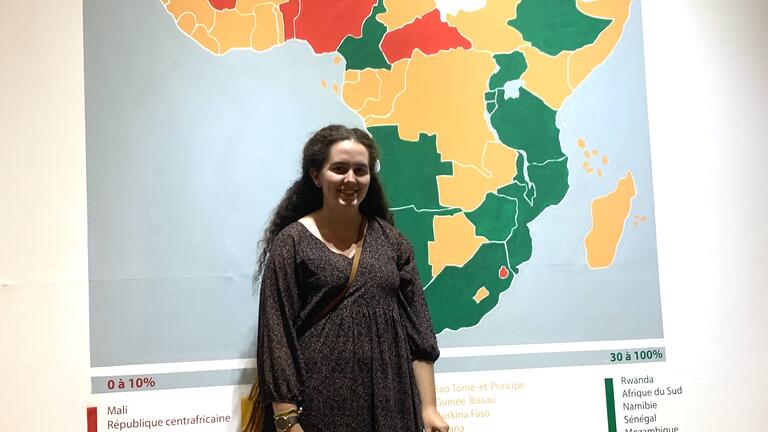 MaryCate Sperrazza with a classmate at the Musee des Civilisations Noires in Dakar, Senegal.
MaryCate Sperrazza, second from left, with study abroad classmates on a tour of Dakar, Senegal.
MaryCate Sperrazza at the Musee des Civilisations Noires in Dakar, Sengal.