Equipped to Lead and Succeed
Navigating This World: Uncovering the Power of Networking as a Black Woman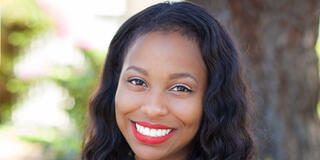 Let me start by acknowledging and recognizing those before me and those essential to my identity. My family, my community, my rocks (that is, friends and mentors), my spirituality, my voice, and my tribe.
My family originates from Louisiana, Arkansas, and Florida. My mother's side of the family moved from the South to California for a better life, opportunities, and the hope to escape racism in the segregated South. Oakland is my home, where my roots are, and the place I can't stop talking about. Due to being the first person in my family to go to private schools, I grew up witnessing what we call "Black Excellency" and experienced the dichotomy in my community. 
My academic journey in college constantly changed as I evolved in my young adulthood. The fact that I had to go to college was always instilled in me during my youth, as my mom would not dare to see it any other way. She encouraged me to become an engineer, and civil engineering was the only discipline in the field that truly interested me. Unfortunately, yet fatefully, my college did not have a civil engineering program. Suddenly within my classes, I started realizing what I wanted to do with my education. Stemming from my own upbringing and identities, I was motivated to understand how social injustices work and how society works both at a macro and micro level. During my time in college, I also learned about the importance of networking. As it was not always what I knew, but who I knew that made an impact on my progression. As a young black woman, I needed to learn how to navigate this world and use my voice. I needed to invent myself and create my place in an unequal world by talking and working my way through connections and opportunities.
For me, networking includes looking at the grocery store cashier divider ads. A psychologist was advertising her private practice, and I saw it as an opportunity to connect with a young female professional in the field. Within the next couple of days, I gained the courage to reach out and schedule a conversation to better understand why I should pursue psychology, what careers are possible to attain, and the possibilities for me in the long-term. She connected me to the USF PsyD program director!
My networking increased within my USF time and program. One of my rocks, who I alluded to earlier, was a past faculty member. Within my first three years, while she worked for the program, she encouraged me to attend, present, and participate in the APA conferences, as well as nurtured my interests and skills. This faculty member encouraged me to stay in the program after my great grandfather passed away, gave me the confidence I needed to continue, and invited me to establish myself within a network of Black female psychologists. Networking at this level was not on my radar. Before the end of my program, a few fellow students of color and myself saw the need to fill the gaps within our PsyD program and created a student group to lift, support, and help each other navigate this field that was not created with diversity in mind.
At my practicum sites, I also deepened my understanding of social justice within mental health care systems on both the macro and micro level. I started my PsyD at USF thinking I was going to change the world and change my community. Today, I am completing my program committed to changing the world one person at a time and believing in the pay-it-forward effect. 
My road map: I am an intelligent, black woman in this world. I am already making an impact on my family, the children in my family, a few individuals at a time, and figuring out how to do this on a larger scale!