Research
Modern Jewish Identity Reshaping Jewish Tradition, Dominant Narrative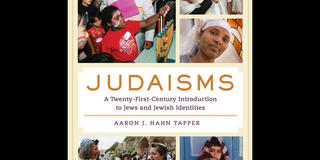 Taking a close look at how Jews fit into society as a culture, race, nationality, religion and more, Judaisms unites a variety of marginalized voices and perspectives to relay the constant reshaping and reworking of Jewish traditions, customs, and beliefs.
"There are countless ways to identify as a Jew, innumerous meanings for those who claim this social identity," Hahn Tapper said. "Judaisms both widens the tent of Jewish history to include countless groups who have been marginalized while walking students through the process of how all communities create dominant narratives."
Organized into themed chapters (e.g., Narratives, Sinais, Zions, Messiahs, Laws, Mysticisms, Cultures, Movements, Genocides, Powers, Borders, and Futures) the book offers extensive notes online, along with key terms, a timeline of major texts, and chapter-by-chapter activities for teaching.
Judaisms is set to be published by the University of California Press in early June 2016.
Hahn Tapper also contributed a chapter last year to the book Who is a Jew? Reflections on History, Religion, and Culture, titled "Will the 'Real' Jew Please Stand Up! Karaites, Israelites, Messianists, and the Kabbalah Centre," published by the Purdue University Press in 2015.
Hahn Tapper is the Founding Director of the Swig Program in Jewish Studies and Social Justice and an Associate Professor in the Department of Theology and Religious Studies.
Know someone with a powerful USF story? Let us know! usfnews@usfca.edu | Twitter @usfcanews