Passion for Justice
A Mile in Their Shoes
Khadijah Suleman MA '19 uses sports to change lives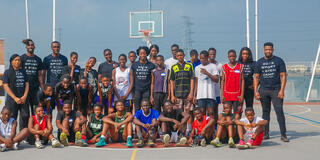 From the NCAA finals as a top sprinter for Ole Miss, to the Nigerian Olympic track team, to the Sport Management program at USF, Khadijah Suleman MA '19 is no stranger to taking big strides. Her latest? Founding the nonprofit Gear 'Em Up.
What is Gear 'Em Up?
Gear 'Em Up gives athletic apparel, equipment, and inspiration to disadvantaged athletes in developing countries. We use athletics to develop potential in children. I founded Gear 'Em Up three months before starting my MA in Sport Management at USF, teaming up with three of my former track teammates.
Why give athletic gear?
There is no better way to learn grit and discipline than through sports. Sports teach us how to aspire and work harder. By giving our athletes gear, we encourage self-reliance. We also give them motivation to attend the colleges that donate the apparel.
How many shoes did you give them?
Last December in Nigeria, we gave about 200 pairs of shoes to student athletes, but we do more than just donate shoes and apparel. On this last trip we taught students how to operate drones and use technology. This was a part of our SportsxSTEM camp.
SportsxSTEM?
Yes. We wanted to do something different this year so we teamed up with Global Air Drone Academy, a nonprofit that teaches students how to operate drones, and Let Girls Read, Run, Grow, which brings together education, athletics, and entrepreneurship through agriculture to address the challenges that hinder girls. Our camp combined athletic training with technological education for children ages 7–15. The toughness and teamwork they learned in the sports section helped them excel in the technology section. The teamwork and problem-solving skills they gain from STEM learning applies not only to sports but general personal development as well.
Did your USF training help you with Gear 'Em Up?
Absolutely. USF taught me how to get over my discomfort with networking.
What does the future look like for Gear 'Em Up?
In the future I want Gear 'Em Up to grow its network of partners. Through those relationships we can reach more kids and create experiences beyond the scope of what we could do alone. Also I'd love to start a scholarship fund for the kids who attend our camps to go to college.