Alumni
In Memory of Matthew McCullough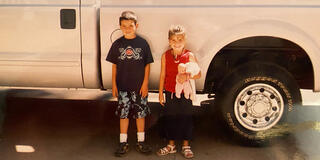 In fourth grade, my life turned upside down with the news that my older brother, Matthew, was diagnosed with brain cancer. Matthew and I were very close, so I would go to Lucile Packard Children's Hospital and be there as a supportive sister and help out with his treatment.
The compassionate nurses there sparked my desire to become a nurse.
I found the nurses' unconditional commitment to my brother's care remarkable. They set aside time to play cards with him, get him a glass of water or a warm blanket. They listened to his jokes and celebrated his magic tricks.
Matthew battled for four years before passing away when he was a sophomore in high school at age 15. By then, I was 13 years old and in eighth grade. Losing him was devastating. As I grew older, I felt the need to channel my grief and turn around that tragic moment into something positive by pursuing my goal of becoming a nurse. Specifically, go into pediatric hematology/oncology. I began my journey by volunteering throughout high school at hospitals, cancer centers, and a pediatric clinic. My brother's beanie always seemed to comfort him, like a hug. My high school senior project to honor him was "A Hug for your Head." I organized a beanie drive with the help of our community. People donated either a beanie or money to buy beanies. I donated 1,372 beanies to Lucile Packard for children undergoing cancer treatment who had lost their hair. Throughout college I was the events coordinator and public relations chair of Love Your Melon, a cancer apparel brand, a camp counselor at Camp Okizu, a camp for kids with cancer and their siblings, and supported the Make-a-Wish Foundation. Through these volunteer opportunities, I was able to give back to the community that gave so much to our family and solidify my goal of becoming a pediatric oncology nurse.
School never came easy for me, and because I was not a super student, I had to work ten times harder than the average student to become a nurse. Since the beginning, my goal was to work at Lucile Packard, and I knew that going to University of San Francisco (USF) would take me one step closer to that goal. At USF, I worked very hard and studied long hours. Because I went to countless office hours and practically lived in the library, I missed out on many fun things with my friends but looking back, it was worth it. I had a goal and a priority and just stuck to it. It was challenging, but I was dedicated and driven.
Someone that made a huge impact in my academic success at USF was Dr. Hurley. I met him in my very first class, and he helped and supported me throughout the whole nursing program. He was always kind and had wise words for every challenge I faced. He taught me that nursing is not just about the tasks but about the person. You can easily fall into doing things, but he taught me to take a step back and always care for the whole person. I did my capstone at Oakland Children's Hospital on the hematology/oncology floor. Thanks to Dr. Hurley's guidance, my project was on coping strategies in adolescent cancer patients. Some patients at Oakland Children's were newly diagnosed, and I wanted to help both the parents and the patient cope with their life-changing circumstances.
While working on my BSN at USF, I started as a nursing assistant at Stanford on the adult oncology unit; then, I transferred over to Lucile Packard, where I was a nursing assistant on the solid organ transplant unit. After graduation, I applied for the new grad program in the hematology/oncology unit, and I got in! I am presently working on the hematology/oncology/STEM cell transplant unit at Lucile Packard as an RN. I'm 25 and in my dream job, and it feels like I have come full circle. I walked the exact same halls of Lucile Packard with Matthew, and now as a nurse, I have the opportunity to care for patients and their families on the same floor. I am fortunate to be back at Lucile Packard, where I once spent much of my childhood. I love working with the other oncology nurses. Many of them know my story, and they have been extremely welcoming and supportive. As oncology nurses, we deal with death and difficult diagnoses, but there are also happy and joyful moments that keep me going.
If I had the opportunity to tell the graduating students about transitioning from school to practice, I would first tell them, "It is a steep learning curve, no doubt, but it is going to be okay." I remember coming home crying from lectures on diseases I could not grasp and exams, thinking, "I am never going to be a nurse." Looking back, these were small moments of my journey.
I would remind the graduating students to remember that simple gestures such as a smile or taking an extra minute to listen to a story are important components of quality patient care. Coping strategies are also a must in this field of work. Nursing is very demanding, both physically and emotionally, so taking time for yourself is extremely important. Some of my coping strategies include: listening to music and podcasts, talking to my mom or friends about my day, baking, rock climbing, and, most importantly, getting outdoors. I like long walks in the sun, hiking, kayaking, camping, and lying in the park with a good book.
My future goals include becoming a traveling nurse at some point in my career and then eventually becoming a Nurse Practitioner. It is pretty silly why I initially wanted to be a NP: my brother's nurse practitioner, who still works as Lucile Packard, and I am still in contact with her, was always dressed up from head to toe. She wore dresses and heels all day long at work. As a little girl, I thought, "Oh, my gosh! I want to be just like her." No scrubs, and you can wear the cutest outfits. Besides her cute outfits, which were so impressive, I appreciated how she got involved with our family and cared for Matthew as a whole person rather than just another kid with cancer. She made a significant impact on my life and showed me how to become a bridge between the hospital and the family.
When days get really hard, I take a step back, take a breath, think about Dr. Hurley's wise advice, and about Matthew's nurse practitioner with her cute clothes and commitment to exemplary patient care.
Every day I celebrate Matthew's life. Dedicating this article to him reminds me that nursing is more than just a job. We, as nurses, have a unique opportunity to make a difference in patients' lives, not only with our critical thinking skills, but also with simple gestures such as a smile or encouraging words of hope. Our passion for providing quality patient care can bring a sense of normalcy to patients' lives, and should remind us that we make a difference in people's lives every day.
Strive to become that bridge!