Engaged Learning
Meet Your Professor: Hana Mori Böttger
Part of a summer series on getting to know teachers at USF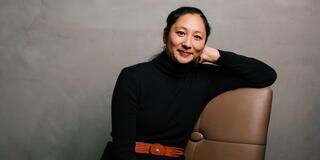 Hana Mori Böttger, associate professor and chair of the new engineering program, talks about reinforced concrete, rocket science, and her famous appetite.
Which courses will you teach?
Within engineering, I'll teach an intro to statics and structural engineering, a class about construction materials, and an engineering project class.
What was your first job as a teenager?
I was a French tutor.
What are some of your favorite "aha" moments for students?
In my architecture studio class one year, I had my students build an enormous model, about 3 feet tall. One student was making foundations and the plaster kept breaking. Finally, he took a paper clip, undid it to make small wires, and ended up showing his model with little pieces of steel in it to keep the plaster together.
I told him, "Congratulations, you've just invented reinforced concrete." He figured out by himself why reinforced concrete exists, just through his own process. It goes to show that buildings are not rocket science; it's actually a lot of intuition and trial and error.
What are your best tips for online teaching and learning?
For instructors, I think it's key to not let go of the quirks and character you have in the classroom, just because of the weird remote format. I personally have "make a fool of myself every day" as a daily goal, and I try to keep that up online! Also, to be transparent about things that are new to all of us and not expect perfection.
For students, I think it's important to stay engaged with the classroom experience by setting aside a time and space that's different from if you were just relaxing at home. Let others around you know that you're "in class." Also, to remember that it's harder for the instructor to notice subtle things going on in the "room," so assert yourself if you have a question or comment. To make up for the fact that we can't just run into each other for quick questions, get comfortable reaching out for even tiny things. You still have to make sure you're embracing all your opportunities, as you would in person.
Favorite place in San Francisco?
Shalimar. It's an Indian/Pakistani restaurant on Jones.
Favorite app on your phone?
Instagram.
Comfort food?
I'm quite famous for eating everything and a lot of it. I like anything that's warm — stews, curries, Korean tofu soup.
What does your average Saturday look like?
These days, there's definitely work related to the engineering department that I need to catch up on. I'll try to have one outing like a bigger bike ride or cook something, like gluten-free bread or pastries.
Connect with Professor Böttger at hana.bottger@usfca.edu.