Faculty & Staff Achievements
A Journey of Professionalism Through the Intersection of Public Health and Criminal Justice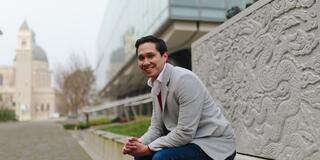 Jail smells like oranges and bologna. This sense reminds me of the beginning of my professional and academic journey.
I always had a fascination with the law, criminal defense, and prison culture. Throughout adolescence, I fantasized about being the hotshot defense attorney who commanded the courtroom and won every case through charm and guile. My professional experience started with reentry work in state and county institutions helping the reentry population. I would head up to San Quentin State prison on evenings with a community college professor for spoken word sessions or help with filling out a DMV form with clients. This transitioned into county jails where I met with clients to understand what legal filings they wanted to submit or how they could access additional resources. I loved the work I was doing and the population I worked with; I could actually become a defense lawyer.
I went to law school with bright eyes and confidence and left after a year dejected and hopeless. My dream came crashing down in less than twelve months as I was unable to perform at an academic level necessary to succeed. Even though I learned some skills that first year and landed a judicial clerkship, my skills of networking and collaboration did not result in academic success. A few years later,  I applied for a position with the federal courts helping with drug court programs. What convinced the team of judges, attorneys, and officers who interviewed me to offer me the job was how candid I was about my difficulties in law school. I now oversee collaborative court programs in the Northern District of California, providing intensive supervision to clients with substance use issues and criminal thinking errors. It's truly a collaborative approach where staff from various agencies work together to develop program plans that hold clients accountable in the community. The support of these brilliant, hard-working professionals led me to explore returning to school.
As a middle-class San Francisco native, I grew up thinking USF was the expensive and unobtainable school on top of the hill I'd never get into. I was able to attend the SONHP Master of Behavioral Health program with a dedicated focus to learn about the healthcare system and how it could apply to my work with clients in the court system. There were similarities between both systems: a hierarchy of staff, talent and different approaches, and an underlying frustration of outcomes. Through the application process where many professors offered their time to discuss my work with the court, I sensed there would be a strong approach to learn new skills that could elevate the programs I work for.
The first day of class in the MSBH program brought a range of anxiety and discomfort. It was the first time I was back in school after 7 years, I was a bit older than my cohort, and I didn't speak the same language. One professor asked what the leading cause of death in the United States was to which I randomly thought gun violence; I had no idea. Four other students gave correct answers from a scientific perspective listing heart disease, cancer, and other illnesses related to public health. Not only would I have to do all the work of an intensive one-year master's program while learning this language, I still had my full-time job with the court and a young child at home. This was going to be hard.
The program pushed me to find new ways to collaborate while understanding workflow and time management. When I finished the program, I felt confident discussing the health perspective and working with treatment providers to enhance collaboration to serve clients. The concentration of behavioral health and the criminal justice system may not have given me a clearly defined role, but I was confident to give my perspective in both systems.
With my background in program planning of alternative to incarceration programs, the SONHP offered me a position to teach the course, Program Planning, Management, and Evaluation in the MPH program. It was a course I took as a student and now had the honor to teach as a professor. Before starting, I was able to talk to a wealth of professors who generously gave their time. Professors from the SONHP gave me tips and advice from their experience working with students. The Center for Teaching Excellence was an incredible resource that allowed me to explore my strategy of working collaboratively with students as opposed to being an authority figure. And other professors from the School of Law and non-profit management allowed me to focus on approaches for my own organization, A Curiae.
After months of reflecting on my professionalism, I'm proud to share the launch of my 501c3 organization, A Curiae, that looks to improve outcomes in the criminal justice system by working at the intersection of the court, public health, and community resources. A Curiae will provide support directly to clients through resource referral, financial assistance, and professional mentorship. The organization will also provide guidance and support through consultation of collaborative courts and to private organizations looking to work with the reentry population. My vision is to expand to areas around the country where A Curiae not only works directly helping the population but has a systematic impact to make change.
I rarely experience the smell of oranges and bologna these days, but I do feel a sense of pride in the work I do both for the courts and USF. When I help a client feel confident as they work through their issues in the community after being released from custody, there's a sense of joy. Similarly, when I can provide guidance as a professor to students who impress me with their approach to program planning for public health, I have confidence in how much systematic change can happen now and in the future. It takes a sense of understanding that work will always be hard, but collaboration and understanding can lead to immense impact and change.