Alumni
The Gift of Belief
The Kalmanovitz Scholarship provided first-generation student Megan Montecino '23 the chance to chase opportunities she never thought possible.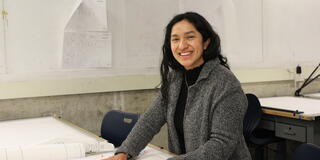 For first-generation college students, intimidation about a perceived lack of affordability can hamper access to higher education.
Thirty-one percent of first-year USF students identify as the first in their families to attend college. USF remains committed to these students who have traditionally been overlooked or underserved by providing pathways to success that will allow them to make the Hilltop their home. The Kalmanovitz Charitable Foundation has helped USF maintain this commitment to first-generation students throughout Changing the World From Here: Campaign for the University of San Francisco.
Megan Montecino '23 is one such student who received the Kalmanovitz Scholarship. She says it provided the financial means to help her believe in herself to not only achieve one dream, but three: finishing college, reaching her dream, and loving what she's studying.
Three years ago, Montecino was in the thick of the college selection process. She was drawn to the integrity of USF and how the faculty and staff "walked the walk." Montecino appreciated how they truly seemed to care for the students and wanted to help them grow and thrive as people. The deal was sweetened when USF offered her the Kalmanovitz Scholarship.
"For some it might be small but for me the scholarship was a big deal because it allowed me to come and choose what I was interested in studying. It allowed me to pursue a dream that my mom hasn't been able to, that our past generation hasn't been able to. It allowed me to see the possibilities," said Montecino. "USF truly invests in their students. That becomes a big advantage to me and being first-generation in my family because it helps me take that step forward confidently."
Thanks to this financial aid, Montecino arrived at USF as a first-generation college student, unsure of what to expect but with an open mind and a desire to take advantage of the opportunities available to her.
She quickly declared as a physics major because she believed that she would have the flexibility to go into a variety of fields including engineering or architecture.
However, after taking structural engineering, Montecino fell in love with architecture and switched her major. She appreciated how architecture is tangible and intangible theories could be applied in a marriage of design and function. The support of her professors was the cherry on top. Not only did she feel cared for as a student, but also as a person, and she says this care and belief in her helped her trust herself that she could achieve her goals.
"The support of the physics and architecture departments give you the opportunity to succeed. They structure their help to form and encourage you, not just to make you prove yourself," Montecino said of her professors. "I have grown to be a better person because of my professors."
For a while, even though Montecino was excelling in her classes she had to pinch herself. The opportunities and care she received from USF faculty and staff was unexpected but greatly appreciated.
"Sometimes I feel like my life at USF is so much like a dream that I haven't woken up from. I have to tell myself that I am actually doing this and I am here. How could it be possible that I have friends like this, a community like this, educational opportunities like this?" said Montecino. "Before coming to USF I never thought I could have this much support and opportunity in this environment."
As Montecino looks toward the future and life after USF, she is focused on securing an internship in the architecture field and completing her studies. Regardless of where life takes her, she knows she found a path she is passionate about and where she can succeed, all thanks to the doors opened by a scholarship:
"If I'm loving what I'm studying now, how much more will I achieve once I'm out in the field?"
LEARN HOW YOU CAN SUPPORT MORE FIRST-GENERATION USF STUDENTS LIKE MEGAN MONTECINO ACHIEVE THEIR DREAMS.