Equipped to Lead and Succeed
An Interview with Everardo Leon '23
USF Doctor in Clinical Psychology (PsyD) student (he/him/his)
Both Universities, USF and Santa Clara — where I did my undergraduate business program — have inspired me to be a person for others. Now, going even further, I want to be a person with others in their journey, shared Everardo.
In high school, I was already educating myself about community service, self-care, spirituality, and academics. I was investing in the whole person, working on myself and with those I was serving through community service opportunities. Then, as an undocumented student, I only had a few higher education options. Santa Clara University considered my application and provided the needed financial aid to continue my education. My process to gain a full scholarship was steeper but worth it.
My family taught me that education opens the doors to many opportunities and helps you to succeed, but it also helps to expand your horizons."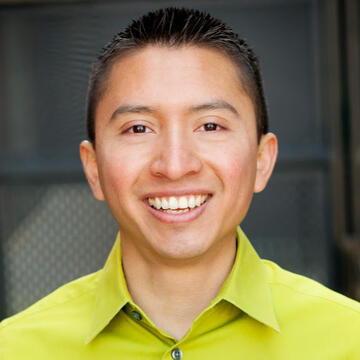 During my undergrad years, I took advantage of immersion trips where we reflected on how to be with the people in solidarity. We learned about their experiences and heard their narratives. We were not there to change their lives but to walk with them in their everyday struggles. We learned how they build their resilience. These experiences became my foundation and vision, which informed my next professional steps. What did I want to do for the rest of my life? 
After graduating from Santa Clara, I was a middle and high school teacher for 11 years. As a teacher, I heard students and their parent's stories. I wanted to help, but to do that, I had to go back to school and find where I could have a more significant impact on people's lives. 
During the USF PsyD interview process, I realized everyone was at a very different stage and had a different vision, purpose, or intention for joining the program. Still, everyone wanted to be a person for others and join that mission. I knew I would get a really good education at USF. As a Jesuit school, I expected a smaller class environment, where the professors know our names and where we have this sense of community. 
PsyD faculty also has much experience working with marginalized, underserved populations and a broad spectrum of people, providing a good understanding of mental health, behaviors, and conditions.
Professors helped a lot in terms of understanding who you are as a person and the things that you can offer. They helped me focus on my strengths, become aware of my privileges, and help me define my potential.
Learning about how to be a foreign person with others and hearing their story and their narrative, which is a part of being a psychologist other than providing therapeutic services. Clients are not just a diagnosis; there's much more to each one of them, whether it's their personality traits and their strengths. I want to learn about their background and who they are as a whole person. 
With a doctorate in clinical psychology, many opportunities have opened, and I am doing things I never imagined myself doing. I can find my niche and be more free to do whatever I want. Within my program, I was fortunate to work at Saint Anthony's Medical Clinic in the Tenderloin, at Santa Clara Valley Medical Center, the San Francisco VA, and San Quentin was my most recent placement. 
Through the PsyD program, I will start providing clinical services under the supervision of a licensed psychologist at a site. I got placed in a primary care setting. I will conduct individual and group therapy, assessments, and advocacy work. 
What would I say to myself five years ago? Just keep doing what you're doing; you are in good hands at USF.  It will be worthwhile in all aspects. It took me years to decide to go to graduate school. I reflected on it was the right move, what was going to happen without a job. I had spent a lot of time reflecting on whether this was the right decision by the time I applied, I knew, I was at the right place and time.