Alumni
A Global Experience and Perspective
Interview with Ann Nguyen, MSN '12 and DNP '20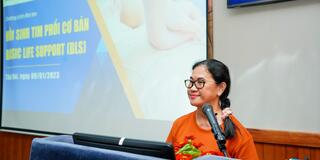 "We are fortunate to have MSN and DNP alumna Ann Nguyen as a faculty member at USF School of Nursing and Health Professions. Ann's global experience and perspectives are invaluable to our community," said Dean Fry-Bowers.
In an interview, Professor Ann Nguyen shared she graduated from Medical School in Vietnam in 1997. Soon after, she got married and moved with her in-law family to the US. Ann wanted to work in the medical field, so she chose to join the nursing profession by obtaining her CNA (Certified Nursing Assistant) at a Community College. Working as a CNA, she learned about the US healthcare system and realized the importance of obtaining a nursing education. She obtained her LVN (Licensed Vocational Nurse) and became an RN (Registered Nurse). However, Ann was not done and she decided to pursue a master's in nursing degree at USF. "I couldn't refuse an education and scholarship from USF!"
Ann has experienced all levels of nursing skills, knowledge, and care. "Education assists me to serve my patients well and support my colleagues in teamwork, quality of care, and safe professional practice."
Balancing work and study was always challenging, but Ann is always committed to doing her best, she developed a personal and professional network and learned to ask for help. "In my life, my counselors have provided strong guidance to set goals and work through every opportunity. We learn from each other and from our patients, too."
As part of the MSN program at USF, a clinical instructor saw Ann's potential and knowledge during her final presentation and introduced her to The Vietnam Nurse Project (VNP) in 2011. "They recognized my background and how I became a nurse. By then, I knew nurses and physicians could do more for healthcare with greater collaboration. I knew about leadership and developing a plan based on understanding the situation and culture. In Vietnam, we were able to change the nurses culture. Previously nurses in Vietnam would follow orders. Through the Vietnam Nurse Project they learned to base their decisions using evidence-based practice and collaboration with patients. The Project made a big difference. I saw the connection. The Vietnam Nurse Project's mission made my dream of "Changing the World from Here" come true. Sharing my USF's education with colleagues in Vietnam was a dream! First, we shared the evidence-based practice model with Vietnamese bedside providers, then started educating the nurses, and now we are training faculty. I'm proud to be with USF!"
Ann cherishes her time at USF, the preparation she received from professors, and the one-on-one connection and relationships. She experienced seeing things differently and with wider angles and also gained a network.
Professor Nguyen is also a wound care expert and has worked at the Regional Medical Center, as a Wound Care Nurse Manager since 2011. She is a wound care certified (WCC) nurse, certified wound care nurse (CWCN), Certified Wound Specialist (CWS), and CFCS ( Certified Foot Care Specialist). She co-founded the International WOCN Education Program. It is the 7Th accredited program of the WOCN society and the first International program that brings wound care education to nurses in Asia with USF!
Three closing thoughts:
What inspired you to join USF as a faculty member? My desire to give back to the community. I want to share what I have learned and experienced. I want to share the meaning of being a nurse with the next nursing generation.
 What would you tell your past self about the journey? Dream, it does not cost. Never stop learning. Being humble to share, don't be afraid to ask, and the doors will open!
Closing words: I want to thank the USF community for welcoming me as a student, reconnecting me with Vietnam, and returning me as a faculty member. I will continue to grow!