Giving
Fostering Success for Future Generations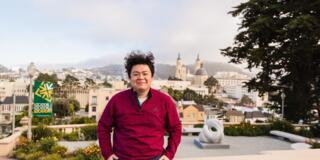 As Rayburn Tang '22 and his fellow Kai Chong Tong scholarship recipients sat in Chinatown's New Asia Restaurant during the annual Pon Yup Chong How banquet, he couldn't help but reminisce on his childhood memories of eating in the same restaurant with his family. At that moment, he felt a rush of gratitude and relief that all of his hard work had paid off.
While in high school, the idea of attending college was always on Tang's mind, but the thought of leaving his mother seemed too big of an ask. She didn't speak English and relied heavily on him for activities outside of the house.
Tang found guidance and inspiration from his mentors at Archbishop Riordan High School. With their help, he gained a sense of confidence and a drive to help his mother and to achieve his educational goals by pursuing a college education close to home at the University of San Francisco. He found himself excited about the new opportunities and challenges that college had to offer.
Discovering his Passion and Paying it Forward
As a freshman at USF, Tang joined the Muscat Scholars Program for first-generation college students. The program allowed him to connect with other students and peer mentors, who like Tang, were also the first in their families to attend college. Their shared experiences, along with support from the program's on-campus staff and faculty, allowed him to thrive in his new surroundings.
After his freshman year, Tang found his passion for psychology while taking Dr. Doughan's General Psychology course. Drawn to how cognitive functions work and influence our daily decisions, his psychology courses provided him the skill set to empathize with others and understand how the human brain works. In addition to majoring in psychology, Tang decided to also pursue three minors; Neuroscience, Chinese studies, and Child and Youth Studies.
Tang's interest in youth studies, stems from his time at the San Francisco Boys Hope Girls Hope (BHGH) chapter, a program he's been involved with since middle school. The program's mission is to help students from disadvantaged backgrounds achieve academic success, pursue a college education, and become career-ready.
He credits the organization for his progress in school as well as uncovering his passion for helping other students achieve academic success. Today, he works at BHGH as a Scholar Support Specialist helping students who have academic potential but lack the resources to pursue a college education.
"I love helping others and working with a younger generation," says Tang."I want to teach the students I work with, my scholars, that their voice is important. Even more important than mine as they are the future leaders of the world."
Tang praises USF's cultural diversity courses for providing a platform for students to become social justice advocates. It was the fundamental skills he developed at USF that allowed Tang to give scholars at BHGH a sense of belonging and security in their community. As he continues his education and his mentorship of students at BHGH, one of his primary goals is to lead the community to fight against social stigmas, injustices, inequality, and encourage others to take a stand.
The Future Ahead
This summer, Tang put this goal into action as a research assistant at UCSF through the BrainLENS program. He works with young children to test their brain capabilities by examining their socio-emotional processing, motivation, and resilience and their learning methods and acquisition skills.
As this school year begins, Tang is eager to pursue research alongside USF faculty and continue to work towards finishing his degree. He aspires to complete a PsyD in Clinical Psychology and provide mental health services to underserved high school or college students.
Support first-generation students and social justice advocates like Rayburn Tang '22. Give to the Muscat Scholars Program »