Alumni
Forging Futures: Leading with Gratitude and Intention
Five Questions with Jady Ojiri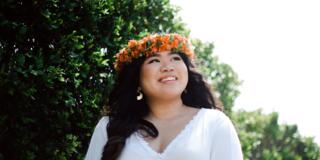 Jady Ojiri '21, a recent graduate of USF's English Literature program, shares how her internship with the university, as well as other opportunities afforded to her during her college career, have helped her capitalize on some of her greatest accomplishments thus far. As Ojiri reflects on her undergraduate years and looks forward to new endeavors, she hopes that the university will continue to use higher learning as an instrument of change and progression for the future of young minds. 
What does 'Changing the World From Here' mean to you? 
It means asking ourselves: what kind of change needs to take place and what can I do to set that change in motion? When we want to create an impact, it often requires great creativity and motivation. I think life in the pandemic is a testament to this. Many of us have had to adapt and reimagine how to accomplish our goals. USF's motto asks us to remember that change is always possible and it starts from wherever we are. 
Looking back at your time at the university, how has your work as an intern in USF's Development Communications office enhanced your connection to USF and your college experience? 
As an intern, I've been able to connect with so many people — students, faculty, alumni, staff, and, of course, our amazing donors. I'm proud to be a part of the university's initiatives to gain philanthropic support, boost scholarship funds, and be a voice that amplifies how incredible our institution is. I know what it's like to rely on scholarships and to feel the weight of financial insecurity, so I'm thankful for this platform and to have the opportunity to help students who are also facing those challenges.  
What other programs were you a part of on campus? What inspires you to be a part of these programs and potentially give back to them? 
I've had the privilege of studying English literature in the College of Arts and Sciences. The English program drew me in because the classes address broad and important topics like race, gender, sexuality, and multiculturalism. Given the global issues that we continue to face, having these types of conversations at higher education institutions is paramount to our ability to envision paths of change and resolution for a better future. Recently, I made my first-ever gift to the university on Day of the Dons, and I hope to continue giving back after graduation. USF has so much to offer, and I want to contribute whatever I can to ensure that more students have access to the kind of education I did.
Is there someone, such as a professor, peer, coach, or advisor, that had or continues to have a substantial impact on your college experience? How? 
There are so many people I could name, but I want to give a shout-out to professor Samira Abdur-Rahman and professor Christina García Lopez. In the final weeks of my capstone project, their guidance and advice were integral to my work. I'm grateful to have had the support of professors who are women of color and such strong intellectual powerhouses. They inspire me to be brave and to be bold with the goals I set for myself.
What is a piece of advice you can give to current Dons?
Trust that things are going to work out in the end. I faced so many struggles and failures along the way, even before the world shut down in 2020. But those struggles led me to USF and those failures brought me closer to other successes. If there's anything I've learned, it's that holding onto hope will bring good things. Closing this chapter from behind my computer screen is bittersweet, but here's to hoping for better things on the horizon. 
To learn how you can support USF's School of Arts and Sciences, contact Carli Thomas or call 415-422-6006.
To support students like Jady, consider making a gift in support of Changing the World From Here: Campaign for the University of San Francisco.