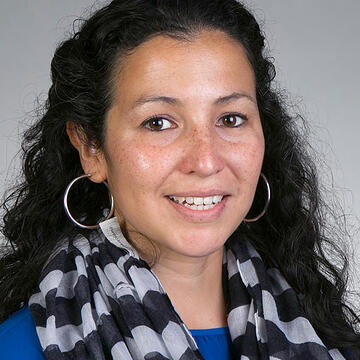 Christina Garcia Lopez
Associate Professor, Director of Chicanx-Latinx Studies, Director of Critical Diversity Studies
Program Director
Full-Time Faculty
Biography
Christina Garcia Lopez holds a PhD in American Studies with a portfolio in Mexican American Studies from the University of Texas at Austin. She completed her BA in English Literature at the University of North Texas and an MA in American Literature and Culture at the University of Leeds. Previous to joining USF, she held a lectureship at the Center for Mexican American Studies at the University of Texas at Austin. Her teaching and research interests include: Latinx and Chicanx literature; Ethnic American literature; gender and sexuality; religion & spirituality; and borders of race, ethnicity, and migration. Her book, Calling the Soul Back: Embodied Spirituality in Chicanx Narrative, centers the mindbodyspirit relationship to argue that narratives can reposition our conscious ways of knowing and being
Appointments
Director of the Chicanx-Latinx Studies Program
Education
BA, English Literature, University of North Texas
MA, American Literature and Culture, University of Leeds
PhD, American Studies, University of Texas at Austin
Selected Publications
Calling the Soul Back: Chicanx Narratives of Embodied Spirituality, University of Arizona Press, 2019.
"With the Sacredness of a Priest: Centering the Body as Ritual Site of Feminist Knowledge in Viramontes' 'The Moths,'" MELUS: Multi Ethnic Literature of the United States, special issue, Twenty-First Century Perspectives on U.S. Ethnic Literatures, Fall 2018.
"This Land is Holy! Intersections of Politics & Spirituality in Luis Alberto Urrea's The Hummingbird's Daughter," Journal of Transnational American Studies 7, no.1 (2016).
"Creating a More Compassionate Narrative: Undoing Desconocimiento through Embodied Intimacy in Helena María Viramontes' Under the Feet of Jesus and Luis Alberto Urrea's The Devil's Highway," (Re)Mapping the Latina/o Literary Landscape: New Works and New Directions, eds. Cristina Herrera and Larissa M. Mercado-López (Palgrave Macmillan, 2016).