Diversity
USF Celebrates First-Generation Students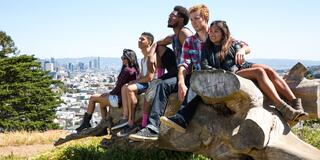 To mark First Generation Celebration Day on Nov. 8, USF is honoring its students who are the first in their families to attend college.
USF's commitment to first-generation students runs deep — 32 percent of first-year students identify as first gen, more than a third of alumni were first-generation students, and the university's president knows firsthand what it's like to be first in the family to attend college.
"I am a firm believer in the power of education," said Juliana Molina '22, first in her family to attend college. She is a sociology major minoring in Latin American studies and public service and community engagement.
Molina said the university helps first-generation students to succeed, especially with the Muscat Scholars Program (MSP), a 25-year institution at USF that holds a two-week boot camp for incoming first-generation, first-year students. She said the program builds community, boosts academic readiness, and introduces new students to the ins and outs of how college works.
"I have experienced so much personal growth and truly found a community, especially through MSP," said Molina. "I don't know where I would be without all of them. In fact, I do not think I can count the number of mentors I have on one hand. How many people get to say that?"
Metyia Phillips '23, a politics major, also said USF supports her as a first-generation student. She is active with the McCarthy Center's Engage Literacy program and she participates in the student senate.
"These programs helped me cultivate my leadership skills and learn about my passions," she said.
Carlos Menchaca '04, a first-generation student at USF two decades ago, said he, too, cultivated his leadership skills at USF. Two weeks ago, he announced his campaign for mayor of New York City, where he has been a council member for seven years.
"It was at USF that I understood the importance of being a smart and thoughtful leader," he said in an interview with USF Magazine.
The commitment to first-generation students at USF comes from the top, where President Paul J. Fitzgerald, S.J., knows the power of education for first-generation college students. He was one.
He is the son of factory workers, the middle child among five children, and the first in his family to attend and graduate from college.
"Education was a gateway to working with your mind rather than with your back, which is what my parents did," he said.
Image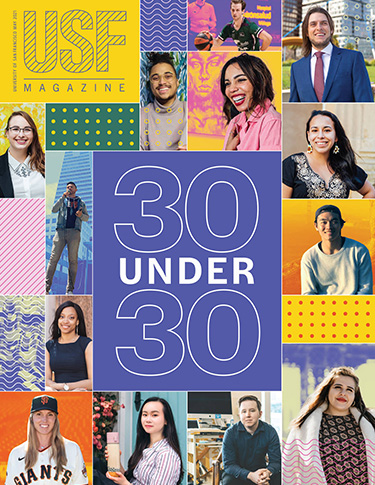 Featured in USF Magazine
This USF News story was published in USF Magazine, where you can find feature stories about university life, alumni Class Notes, and information about events at USF.