Alumni
Embracing Our Power As a Collective
Five Questions With Frances Capupus '22, Nursing Student and Kasamahan Director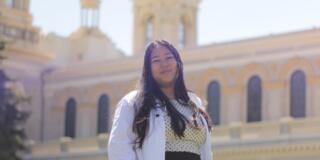 Being a leader and a changemaker takes courage. For Frances Capupus '22, that inner strength comes from her deeply established relationships within the Filipinx community and beyond. As the executive director of Kasamahan, USF's Filipinx-American student organization, the vice president of Community Development for the Culturally-Focused Clubs Council, and a representative of the Nursing Student Association, Capupus carries on the vision and mission of the University of San Francisco with determination and fortitude. 
What does "Changing the World From Here" mean to you? 
Changing the world starts with you. It starts from your mindset, your passions, and your actions. It is acknowledging that your actions have an impact on the world around you. This year has shown us that we can promote change from our own homes and that, regardless of the distance, we are still a collective.  
Who is someone you know within the USF community who is "Changing the World From Here" and how? 
Professor James Zarsadiaz, Director of the Yuchengco Philippine Studies Program, has inspired me and many students. He has helped Kasamahan host events, such as the Bataan Legacy Conference, which educates students about the effects of World War II on Filipinx veterans. He also hosted a discussion with UC Berkeley's Professor Catherine Choy about Filipino immigrant nursing activism. The way he cares about his students and community has inspired me to keep improving as a student leader.
What inspired you to pursue a Bachelor of Science in Nursing? 
I was inspired to pursue a Bachelor of Science in Nursing after witnessing the impact nurses have on people's lives. Nurses contribute a large role in the healthcare field and have often been our unsung heroes. I have always seen nurses as empathetic leaders. They are advocates for their patients and strive to give quality care. Through USF's nursing program, I hope that I can become a geriatric nurse and help our older adult population. I also want to utilize the skills that I've been taught as a nursing student to continue advocating for underrepresented communities.
What have been some of your most memorable experiences at USF? 
My most memorable moments within Kasamahan are having the opportunities to help guide leaders in the Filipinx community. It's seeing new students participate in our KATE mentorship program and redefining what it means to build a bahay, meaning "home" in Tagalog. We have also held meaningful and educational conversations with San Jose State University's professor Joanne Rondilla and Asia Jackson about how to combat colorism in our community. Kasamahan has helped many of my peers and I to explore what it means to be Filipinx through understanding our history. 
Within the Culturally-Focused Clubs Council (CFCC), it's been so fulfilling to help develop relationships between cultural organizations. I've thoroughly enjoyed organizing our "Coffee with CFCs," which is a casual space that allows organizations to participate in activities and collaborate with each other. We also host "Lunches with Leadership," which is a panelist event starring various USF administrators. This allows us to facilitate discussions and connections between administration and student leaders. CFCC cultivates a space where different communities can come together and learn from one another. It has supported many organizations through empowerment and interculturalism.
What makes you proud to be a USF Don? 
Being a USF Don means being in an environment that encourages you to grow as a student, leader, and person. Without spaces such as Kasamahan and CFCC, I would have never been able to learn so much about my identity and my passion for uplifting others. Cultural organizations make it possible for students to learn about their history outside of a classroom setting. It pushes them on a path of self-discovery and social awareness, while also giving them a community that supports them. These spaces foster a sense of unity and solidarity for students in the USF community.
To support students like Capupus, consider making a gift in support of the School of Nursing and Health Professions and Changing the World From Here: Campaign for the University of San Francisco.