Equipped to Lead and Succeed
Alumni Return to Celebrate Their Commencements
Spirits were high on the Hilltop on April 8 as 1,400 alumni from the classes of 2020 and 2021 finally celebrated commencement in person.
With their time on campus cut short due to the COVID-19 pandemic, many graduates and their families said they always wanted to return for a commencement ceremony. They came from around the country (Dallas and North Carolina) and across the world (Thailand) to celebrate. Doonie Love '20 stood outside St. Ignatius Church with his mother, who said, "I had surgery yesterday and am in some pain. But I would have crawled on my knees to get here today."
Here, eight graduates say why they came back, who they're thankful for, and what they're doing now.
Image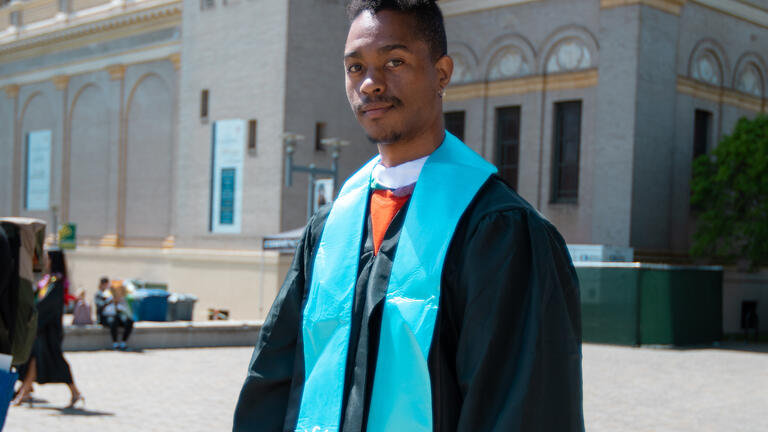 Doonie Love '20, Performing Arts and Social Justice
"It was so important to me to come back for graduation in person because I'm a first-generation college student. I pushed myself to do this, not only to prove to myself that I had the discipline, but for my family. This is the official commemoration of my time here."
Image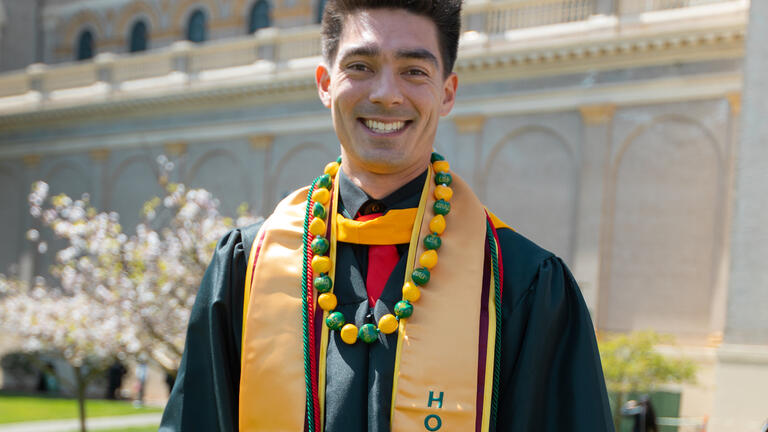 Carter Pope '20, Biology
"Special thanks to Professor James Sikes of the biology department. His teaching methods were different than the typical PowerPoint lectures, and his material stuck with me — I use it to this day, in different ways than you'd think. I'm an EMT now on an ambulance, and I need to distract patients sometimes by calming them down. More than once that's meant talking about the theory of evolution … so thank you, Professor Sikes!"
Image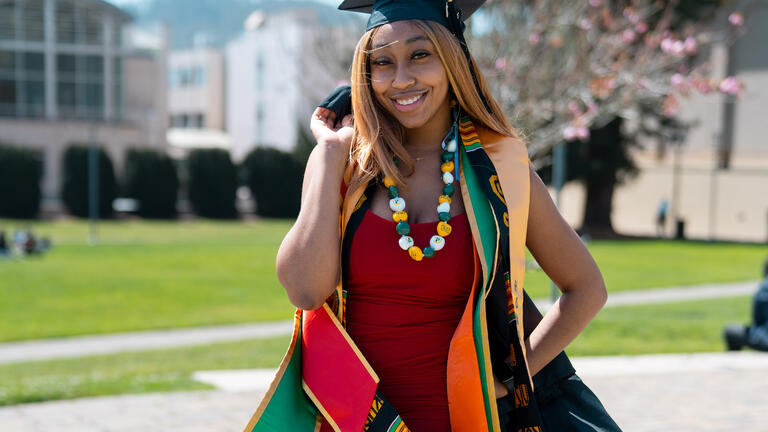 Nautyca Patterson '21, Psychology with Biology minor
"I'd like to thank Professor Stephanie Sears. She was one of the few Black professors I had and she made sure to consistently check in with me, both academically and emotionally. She also made sure that we secured internships in the areas that most interested us, and connected us with people in the field who could help us grow. I'd also love to thank Professor Leslie King of the biology department. When I arrived at USF and took my first biology course, I had no idea how difficult it would be! But she made me feel totally capable, and now I'm graduating with a biology minor. I still check in with her, even now that I've graduated."
Image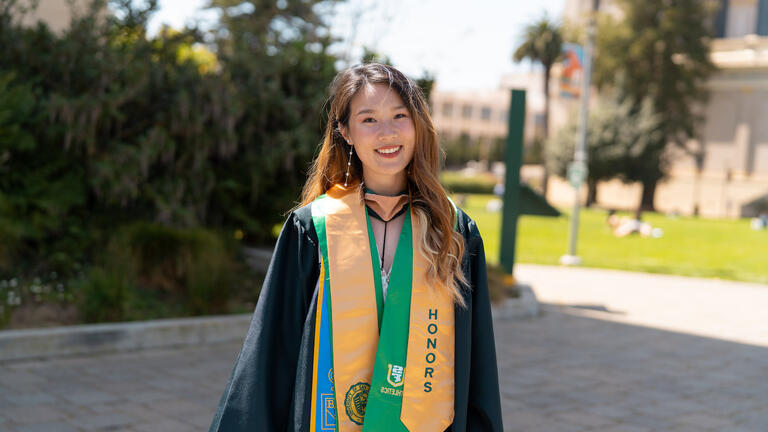 Kesaree Rojanapeansatith '21, Business
"I would love to thank Coach Sara Doell. She wasn't the one who recruited me to the women's golf team, but she took me in as a daughter while I was here. I'm really grateful because she didn't only teach me about golf but about life skills as well. Even today, she's always there to mentor me or help me make connections that will help me in the future. Love you, Coach!"
Image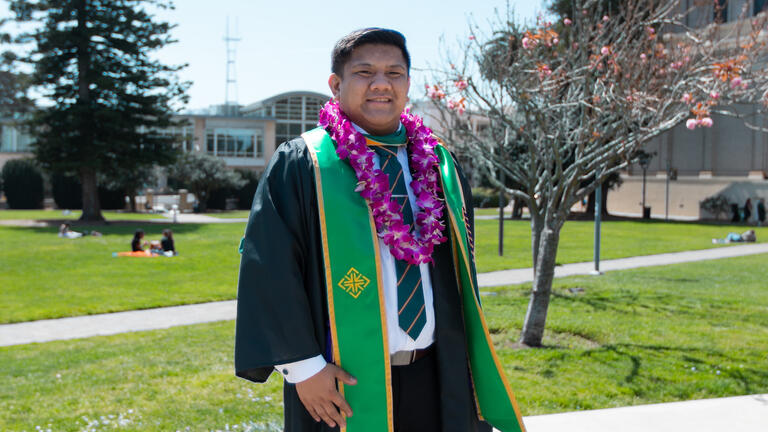 Michael Taylor Ramirez Mapua '21, Chemistry
"My favorite memory was being part of so many organizations, including Alpha Phi Omega. It was all about friendship, leadership, and service, and I made lifelong friends as a member. Some of us have talked every day throughout the pandemic, and today we're reuniting here."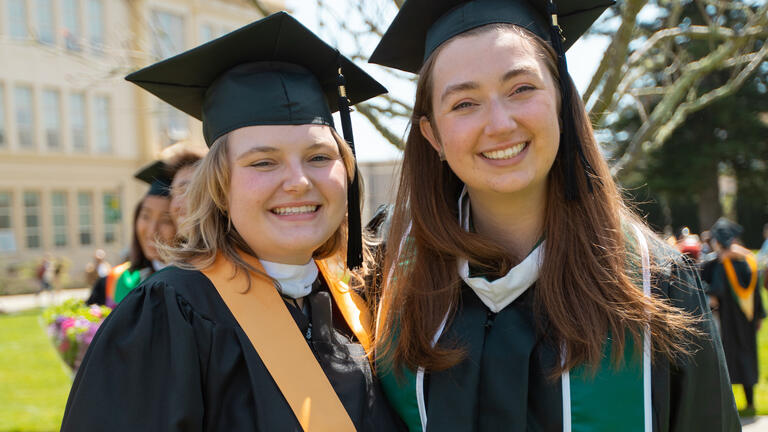 Claire Ogilvie '20, English Literature (above, left)
"Shoutout to Professor Ana Rojas of the literature department. She was an amazing professor and I still reference the materials she used in class. In fact, I came out as gay because of some of the reading assignments in her Critical Analysis class … she's impacted my life a lot!"
Charlotte Moir '20, Media Studies (above, right)
"Professor Tim Redmond of journalism and media studies and Professor Rabia Kamal of the anthropology department are pretty much the shining stars of my collegiate education. They both created such safe and welcoming spaces where people felt compelled to learn and wanted to show up — they set the stage for how I want to learn for the rest of my life."
Image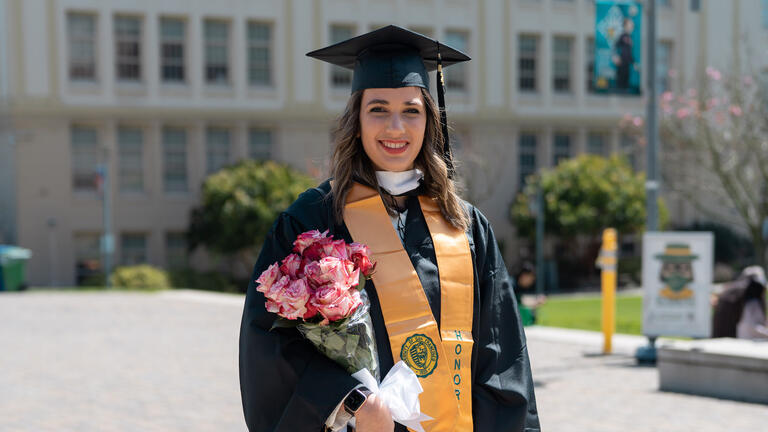 Cristina Candido '21, Psychology
"When I first came to USF for orientation, I participated in every activity I could. One was held in the church, and that first day I imagined myself walking down the aisle at graduation. I flew back to San Francisco from North Carolina, where I'll be earning a graduate degree in psychology, so I could fulfill the vision I had all those years ago."