Engaged Learning
Building a Safer World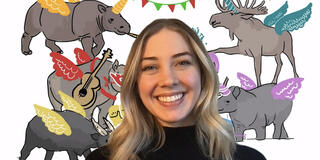 Hello, my name is Aidan Byrnes. I am a second-year Community Practice and Public Health Master's student. I currently intern for the California Hepatitis C Task Force on their Global Immunization Action Network Team (GIANT). GIANT's goal is to improve global public health outcomes by combating vaccine hesitancy through effective, sensitive, science-based communication and education. Our world has been havocked by not only a pandemic but an infodemic as well. An infodemic is the overabundance of information in digital and physical space that includes mis and disinformation. Since March 2020 there has been an overload of information, true and false, circulating through the world's population about COVID-19.
After joining the team my fantastic preceptor, William (Bill) Remak, asked me to apply to the World Health Organization's (WHO) Infodemic Manager Training. An Infodemic Manager is armed with the tools to measure and monitor the impact of infodemics during health emergencies, detect and understand the spread, and respond and deploy interventions to protect the population.
Bill conveyed to me that the WHO was asking for public health professionals who have had 10+ years of experience in the field. I was utterly intimidated. Despite this, I relied on my experience in educational outreach, research, and the medical field, as well as my passion to bring credible health information to communities when submitting my application. To my surprise, I was accepted. The Infodemic Manager Training spanned over 4 weeks with two 3-hour sessions each week. They separated us into groups with team members from all over the world. We then proceeded to respond to a hypothetical nation's pandemic response. It was extremely intensive, and discussions were non-stop. Since teams were international, we were working on handling the problem constantly. When my day was ending, my group members on the other side of the world were waking up ready to tackle misinformation, implementation of COVID-19 protocols, and more for this fictional nation. With a lot of hard work and collaboration, we graduated as Infodemic Manager Unicorns. The term unicorn is used because an expert with the many diverse skills to combat an infodemic is considered a myth; however, we are out there and hoping to recruit more people to become Infodemic Manager Unicorns.
Trainees were from all different backgrounds and the training required us to depend on the skills of a variety of different professionals. Interprofessional collaboration is extremely important in addressing any public health issue and the COVID-19 pandemic is no different. I am extremely grateful for the relationships I created within my group and the community that followed graduation. This training also shared a similar value as our university: meet people where they are. Community engagement and understanding their specific needs before taking action is a key takeaway from this program. A mini, 4-hour Infodemic Management Training is being held through OpenWHO and I recommend it to anyone interested in understanding how to navigate through an infodemic. Infodemics are not solely related to COVID-19, there is mis and disinformation about almost everything circulating through our population. When it is health-related it can be extremely dangerous. The more Infodemic Managers out there, the safer our world will be.