Engaged Learning
Award-Winning Author Inspires Aspiring Writers
Every year, the Reading Series brings in authors of the highest caliber. Everett is no exception. The author of twenty novels, four story collections, and four volumes of poetry, Everett is well known for his high output of exceptional work. His skill has earned him some of the most prestigious awards available to writers, including the Guggenheim Fellowship in Fiction and the Academy Award from the American Academy of Arts and Letters, among others.
Prior to a public reading, Everett attended Professor Susan Steinberg's graduate fiction workshop. Aspiring writers themselves, the students had the unique opportunity to gain insight into how Everett became a successful writer and how they too might become successful novelists and short story writers one day.
Kate Bove '17, an MFA student in Professor Steinberg's workshop, said having Everett in class was a treat.
"The opportunity to listen to Percival Everett answer questions and share writing anecdotes in a small classroom exceeded expectations—I felt he could be really genuine in that sort of setting, and it felt more like a conversation we might have with a professor, rather than something overly formal."
Taylor Nam '17 also expressed excitement about the opportunity to probe the mind of such a successful writer.
"Percival Everett demystified everything about writing in the span of about 0.2 seconds. Talking to him, hearing him read, reminded me why I love this whole writing thing. I love it because I love it and forget the rest. Percival Everett inspired me to love it more. He talked about how every time someone reads his writing there will exist in that moment a whole new meaning. We have no control over what readers take the art to 'mean,' so go! Go and make art and love it!"
Everett encouraged the students to write the things they want to write because it's impossible to please everyone. He said once you turn your work loose in the world, it's going to take on whatever meaning it wants—and that's okay. In fact, that's great.
"The excitement of [writing a book] is that it means something different to everyone," he said.
He was incredibly generous with his answers to students' questions, thoughtfully discussing everything from his writing process to dealing with stress to the author-reader relationship to the drawbacks of social media—for the record, he doesn't use it, and doesn't think it's necessary as a branding tool.
"5,000 followers don't equal 5,000 sales. It doesn't make a good book," he said.
Following the hour-long conversation with students in the MFA program, Everett gave a reading and Q&A open to all USF students and faculty as well as the surrounding community. He read an excerpt from his forthcoming novel "So Much Blue," which spans three time periods across El Salvador, Paris, and the United States. The novel is slated to come out in June 2017 with Graywolf Press.
Now in its sixteenth year, the MFA Reading Series presents free literary readings and discussions that are open to the public. Last year, the series included renowned authors Mary Karr, Adam Johnson, and Louise Glück.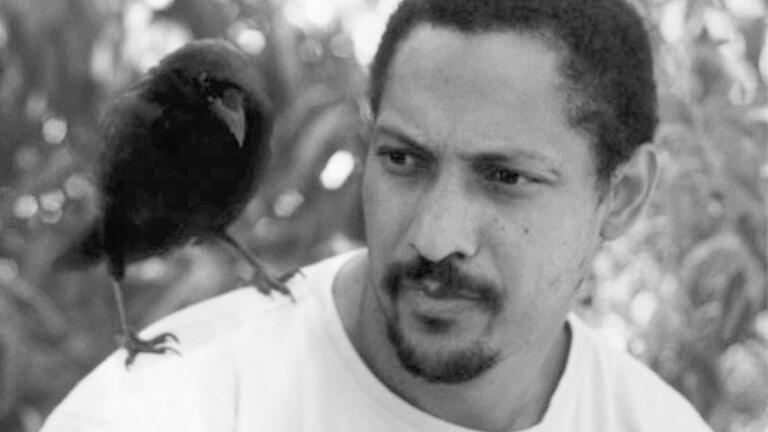 Award-winning author Percival Everett visited USF as part of the MFA Reading Series.