Equipped to Lead and Succeed
An Amazing Journey of Perseverance, Giving Back, and Leadership
Dean Fry-Bowers Interviews Dr. Ricky Norwood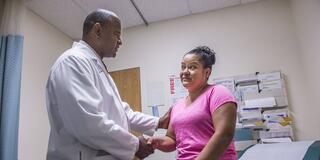 Dean Eileen Fry-Bowers: I am so glad to be here with Dr. Ricky Norwood, one of our new faculty members at the USF School of Nursing and Health Professions. Welcome to our school and faculty team, Dr. Norwood.
Within our conversation, I would like to address a very prominent issue, and that's the issue of diversity and nursing. Even today, black nurses comprise less than 10% of the workforce, and black male nurses are even less represented. Furthermore, only about 10% of nurse practitioners are male, and I could not find any statistics on black male nurse practitioners. And within higher education, the National League of Nursing and the American Association of Colleges of Nursing estimate that men account for less than 10% of nurse educators.
Given the previous statistics, Dr. Norwood, you are a gem and unique. We are fortunate to have you among us! We definitely need male faculty role models and to commit to diversity and inclusion.
During our conversation, I hope to learn about your pathway and inspire others to join our profession. How did you find your way into the profession of nursing? And as a nurse practitioner?
Dr. Ricky Norwood: Let me just say that I am absolutely thrilled to be here at the University of San Francisco. This is my alma mater, it's my home.
Thanks for asking about the diversity and inclusion of African-Americans, especially African-American males in nursing. How I became a nurse? Well, I joined the military when I was seventeen years old. I grew up in the State of Mississippi, a beautiful place, but with very limited opportunities to progress. For me, the quickest way to get out of the Great State of Mississippi was through the military. I still remember my mom and dad signing me into the army at the kitchen table. 
Dr. Norwood's Leadership
While still in high school, I became the Senior class President! Ahhh, I was "the leader." I was also awarded "the Citizenship Award," the highest award a student could get at my high school, which came from the faculty for the student who did the most, had the most potential, and helped out with the school. So I was very proud of myself as I entered the military, and got a real hard cold face of reality. I was at the bottom of the totem pole. I thought I would be welcomed as President Ricky Norwood, but they looked at me like, who are you, what do you do, and we don't care. Wow! It hit me, I was at the bottom, no longer a leader in my own right. So, what do you do? I started doing the things that I needed to make rank and become a leader again. In the military, you must do well on your skills qualification test (SQT), which assesses your ability, and knowledge of your military occupational specialty. I took the test twice and did poorly on the overall SQT test.  I only had experience in a fraction of the specialty, so I did very well on the part related to my job. I failed the test the first two opportunities and did not understand the consequences until I wanted to get promoted. By now, leadership is looking at me saying, you can't pass that test. If you're no good to us, we're going to put you out. 
For the first time, I learned about the importance of education, the importance of increasing knowledge, the importance of learning everything about my job, and the importance of being recognized because you actually know what you're doing.
Then I found a course on how to get promoted, the Primary Leadership Development Course in the military. I had leadership supporting me and others not so supportive, which fueled my commitment to take the course and pass with flying honors. I prayed, and I prayed again and again. I passed the test with an eighty-three, I'll never forget. Now I was worthy in their eye; however, I decided to get out of the active duty military and build my journey again. 
My wife and I then moved to California. I joined the Army Reserves and was given a direct accession into the AGR position via a by-name request. I was doing very well. I got promoted to E6, a Staff Sergeant in the army, and getting more education at DeAnza College. My wife was in San Jose State University, in the ROTC program, and received an active duty Army Commission in El Paso, Texas. She was going to be an officer! I always wanted to be an officer, so I thought of enlisting again, but only one of us could join the army since we had a child. I was in the Police Academy at the San Jose Police Department, so I thought "to transfer" to the police department in El Paso. When I arrived, I said I had just finished the Academy in California, and they said, great, but it's not good enough for us. We're Texans and have a year-long Academy if you want to go. I was not going to take that path and was very frustrated.
Dr. Norwood's Nursing Call
One day in a conversation with my wife about our situation, she said, why don't you become a nurse? My initial reaction was to decline the idea, nursing was not for me. I share this to explain my mindset back then when I thought nursing was for women. My wife said, the army will give you a direct commission to be an officer, and I said, sign me up. That's how I decided to become a nurse. 
With my grandmother's blessing, I was committed to doing the best I could as a nurse. I was not going to let grandma down. So from that point on, me and nursing school did well. I attended the University of Texas El Paso, a major Hispanic program. There were two blacks in my class, a female and me. We also had only one black professor. 
Ahhh, Dr. Pearl Gardner. She took a liking to me. She was a wonderful, wonderful professor, and I learned a lot. I saw the hardship that she went through as an African-American professor. The way the students treated her. I saw the need for more representation, which motivated me to stay in school.
After finishing nursing school, I got the nursing commission and went to the first duty station at Fort Jackson, South Carolina. I was on a medical-surgical floor for about six months, and my Chief Nurse saw something in me, and she said, Ricky, I think you'd be a good med-surg Lieutenant, but I think you could be a wonderful operating room nurse. I had never seen the inside of an operating room, and I did not know what I was getting into, but she said "you will do just fine." She sent me to an operating course back in El Paso, I did very well and graduated as the Distinguished Honor Graduate of my class. I just absolutely loved the operating room back in South Carolina! Then I got sent to be in charge of the Brooke Army Medical Center at Fort Sam Houston, TX. The military moves you to new opportunities. They recognize the value of education and excellence. 
At Brooke Army Medical Center, we had civilian and military nurses in the operating rooms. Most of them were nurses who had been operating nurses for years but were not certified. You had to be an operating room nurse for two years before getting certified. I went to study to take the test. Colleagues were not supportive, they would challenge my path and decision. I realized that with education you elevate yourself, even if others will try to drag you down.
I continued in the operating room and fell in love with teaching the operating room course. I taught for the Uniform Services University of the Health Sciences and won many awards as a peri-operative nursing preceptor and from surgical technicians. I received the distinguished Brigadier General Lillian Dunlap Leadership & Clinical Excellence Award, an award given to the top Junior Officer. However, if I wanted some autonomy, I had to be a nurse practitioner. I went to my chief nurse and asked to apply to the Nurse Practitioner program. She told me that the program was challenging and very competitive. She felt I was not ready for graduate school work. So, I registered in the University of the Incarnate Word, which is also a Jesuit University, for two classes in the Master's Nursing class and did very well. My chief nurse was not impressed and told me that anyone could take those two classes, so I went back and enrolled in two more classes and I got two more A's. The bottom line is, I walked across the stage at the University of the Incarnate Word with a 4.0 GPA and demonstrated that I was ready for the nurse practitioner's degree.
The Importance of Mentors
I had then a wonderful mentor, Dr. Diane Seibert. She talked to you like you were the only person in the world. She became my role model, to become a person who can sit down and give you their full undivided attention and tell you the things that you can do to make things go right. She still is a wonderful mentor for me, and I got through nurse practitioner school. 
Upon completion, I got stationed at Fort Meade, Maryland as a nurse practitioner, and I loved the job. By this time, I'm a Major now and the Officer in Charge (OIC) of the Warriors Clinic! Because I came from the enlisted ranks and now as an officer, I could relate to the enlisted. They would say, "You're the coolest Major I've ever seen," because I've been where they were and understand them and their struggles. 
It was amazing to see the black soldiers come in and feel proud and inspired by Major Norwood! You can talk their talk, you can talk their language, and you know, their walk.
I was sent to Korea three times in my career and twice was as an OR Nurse in the operating room and the last time as a Nurse Practitioner to be in charge of Wood Medical Clinic. Why Wood Medical Clinic? I guess God was punishing me, or he gave me this challenge. The Wood Medical Clinic was the worst clinic on the Peninsula. I was in charge of two physician assistants and one pediatrician. The pediatrician was a Captain, and I was a Major. He was a doctor, and I was nurse. You see where this conflict is going. He's like, I'm a doctor and I'm gonna do what I want to do, including two-hour lunch and only three or four patients in the morning, and probably two or three in the afternoon. Then one of the PAs had the worst attitude in the world. They did not want to see any civilians. I need to change this. After about a month, I had a meeting with them all, and I said, this is what we're going to do and spelled out a different approach. Wood Medical Clinic went from the last to number one in the Peninsula! We got the Veterans of Foreign Wars Award! Was it hard? Yes. Did I get flack from it? Oh, of course. But we did it. 
All the time I was in the army, I always wished I was in the Air Force. So, I got a job as a nurse practitioner at the Air Force Base on a contractor when I retired from the army. The job was deployment health. The first day on the job I'm asked, so what do you want me to do? And the person who hired me said, we don't know. This is a brand new program for the Air Force, and we need a deployment health assessment completion and a compliance rate of 100% for both. When we started, we were at 40% completion and 50% compliance rate. The army had been doing these for three years, so I knew what we needed to do. At this time, I also started looking for a doctorate program. The University of San Francisco was close and USF's DNP program is a working nurse-friendly program. Classes were on Friday evenings and Saturdays. As soon as I started classes, I needed to decide about my project and focus. I'm like, well, I'm going to focus on the Deployment Health Assessment program and address the military suicide rate. The Deployment Health Assessment program requires that anyone who will be deployed, have a face-to-face medical intervention five times:  pre-deployment, prior to leaving the deployed site, and then three times after their deployment. I focused on PTSD in the military.  During my service, we reach 100% completion and compliance. We were the first to hit the numbers, and then shared our approach with others! 
Because I love teaching, I joined Samuel Merritt University as an adjunct faculty member and then also joined UC Davis as a clinician educator, which consisted of 80% in the clinic with patients and 20% in the classroom. I was the first clinician educator and the one to develop the position. Today, UC Davis Betty Irene Moore School of Nursing has 17 clinician educators, and I sat on the hiring committee. 
At the Sacramento County Health Center, 80% of the patients were Spanish speaking and I don't speak Spanish, so I needed an interpreter. When you are using an interpreter and you only have twenty minutes with the patient, your real-time is reduced. You're going back and forth with the interpreter, and then, if you also bring in a student, it takes a long time. My approach was to ask students to lead the process by following specific guidelines I had developed, but I was still responsible for the patient. Many students that came through did quite well. I'm very happy to say many of them I call them colleagues now. 
Since I've been at the University of San Francisco, I have used the student approach to address chronic conditions, to serve clients, and meet their expectations.
Dean Fry-Bowers: Well, we're certainly glad that you are here. You have such a fascinating story. You have always gravitated toward leadership roles and I also heard about your perseverance. When you hit obstacles, you look for solutions. Then, I captured a very strong theme of how important mentorship has been to you. You still name the individuals who made a difference in your life. 
Dr. Norwood: My perseverance comes from my family. I am the seventh son of eight children and my mother did everything in her power to support our education. I represent my mother. I was asked and it was an honor for me that my high school reached back in 2015 and asked me to do the high school commencement. I then shared my mom's story about her only having an eighth-grade education. She never graduated from high school. She wanted to graduate from high school. Her goal was to see all of her kids just graduate from high school, just graduate. Now, I stand before them with a doctoral degree! 
Regarding mentoring, my grandmother always said to me, "just don't take. It is better to give than to receive. God, says the more you give, the more you'll receive."
I want to go back to how we started the talk about diversity and nursing, and, as we mentioned, there are very few black men in nursing, but yet, when we look at health, inequities and health outcomes, black men have many challenges. What can we do as a profession to make nursing accessible to black men? Remember I didn't see nursing for males, but now I know how wrong I was back then.
The National Black Nurses Association, has its Sacramento's chapter to promote African-Americans and nursing. We understand what our patients are going through, because we've been there. We understand the disparities and we have resources to get around those barriers. The term is black excellence. We are here for our community, and we're going to do everything in our power to make sure that we take care of each one of them.
Dean Fry-Bowers: Can you talk a little bit about some of the work you've done in the California Association of Nurse Practitioners?
Dr. Norwood: I was fortunate enough to be the president of that chapter. I reached out to the black community. We went out to the schools and talked about becoming nurse practitioners. We're out there putting a face to what a nurse practitioner can do within the health system. Now I'm sitting on the Board of the California Association for Nurse Practitioners as the co-chair of the education committee. I want to make sure that we're putting forward educational resources for nurse practitioners. 
Dean Fry-Bowers: What do you want your legacy to be in nursing?
Dr. Norwood: That I made a difference, not just with patients, but with everybody I worked with. Patients come to me and say I was the most detailed nurse that they ever had and that I had saved their lives. Students say I showed them critical knowledge and skills. Those are the things that when you look back and say, Dr. Norwood what did you do? I can say I made one little small difference in somebody's life and they took off like a rocket ship. I'm going to continue giving back.
"Change the World from Here" means to me that I must do my very best to influence, honor, teach, acknowledge differences, respect others and give back on a daily basis in my work at USF. The students I teach will see the example I set and will go from here with these same values and spread the importance of being safe, competent, dedicated to duty and service and provide a genuine caring spirit to their patients and the world. Therefore, the world will see us as USF's champions of change and opportunities.
Dean Fry-Bowers: Your story is an amazing story of perseverance, of giving back, and of leadership. You have so much to share with our faculty, with our students, and with patients. We are blessed to have you in the profession, and we are certainly blessed to have you as our faculty. 
Thank you.