Diversity
Advocate for Our Profession
An Interview with Dr. Aimee Paulson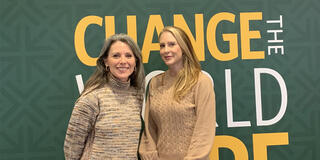 Dean Eileen Fry-Bowers spoke with Dr. Aimee Paulson, one of the leading voices in California for advanced nursing practice and adjunct faculty teaching DNP's Policy course.
Dr. Aimee Paulson earned her MSN with a Family Nurse Practitioner track specialty at Metropolitan State University in 2007. In 2014, she completed her DNP in Health Innovations and Leadership at the University of Minnesota. Aside from maintaining a full-time clinical practice in family medicine, Dr. Paulson has advocated for the nurse practitioner (NP) profession and the communities nurse practitioners serve. Appointed the Health Policy Chair for the California Association for Nurse Practitioners (CANP) for 2018 - 2020, and currently, she is President-Elect.
Trajectory to becoming a nurse and health policy advocate
I grew up in the Midwest in a very middle-class family, and neither of my parents went to college, shared Dr. Paulson. My mom understood the role of nurse practitioners and was incredibly persuasive. At the time, I was also interested in law, policy work, and professional writing. I had difficulty deciding what to pursue. In the end, I didn't push back and enrolled in nursing school. After becoming an RN, I enjoyed working in the float pool, ICU, and ER.
Additionally to working, I enrolled in a Nurse Practitioner (NP) program. I had almost five years of experience as a registered nurse by the time I became an NP. A few years after moving to California, I became involved in CANP. First, as a member, then a Chapter President, followed by a state committee member for the Health Policy and Practice Committee (HPPC), then state board of directors as the HPPC Co-Chair and now President-Elect. I had no idea that as an NP I would end up being able to maintain many of my interests within a single profession!
Dr. Paulson's practice experience
I worked in a solo physician practice for seven years. Then decided to go back to school to get a doctorate and chose to work closer to home at a Medi-Cal clinic in Oakland. I soon realized how spoiled I was in a private family practice. One day in the clinic, I spent twenty minutes with a patient, and the administration scolded me. Even though I love serving that population, the clinic needed to fit my philosophy for care. I disagree with cutting patient visits to five or seven minutes and expecting them to return for another appointment, knowing they have to overcome many challenges.
I went back to the previous practice. However, the physician wanted to turn his practice into a concierge VIP practice which meant a patient panel cap, typically of about five hundred patients. In Solano County, there was already a shortage of health care options. I found another private physician practice nearby in Contra Costa County, and was able to bring in some of the previous practice's patients. I have some patients I've seen since they were a few months old who are now turning fifteen. Family medicine!
Leadership in Health Policy
With the approval of AB 890 and its implementation start date of January 2023, Dr. Paulson spoke of the following key pillars behind this accomplishment:
The importance of the correct language: AB 890 was not the first bill. For each attempt, CANP and NP leaders worked to gain the support and understanding of the general public. The team had to learn how to communicate what we were really trying to achieve. We were not trying to expand the NP's scope of practice but to practice to the fullest extent of our education and training. AB 890 is an access-to-care bill and not a nurse practitioner bill.
Implications: When we introduced the most recent bill, stakeholders pointed out that registered nurses regulated us and that as nurse practitioners with master's and doctorate degrees, we should be regulated by NPs. We had to take that concession very early in the process to get the bill heard. That stipulation eventually got stripped from the bill, and NPs remain regulated by the BRN in CA.
Relationships: Our relationships with legislators were crucial. As the legislative session was about to end, thousands of bills still needed to be read and put forth in front of the floor for a vote. The grassroots efforts that CANP chapter members, especially by the Health Policy and Practice Committee, ensured legislators were familiar with the bill. They knew they had constituents interested in seeing this bill go through, and it was presented and passed with little time to spare.
Follow-Up: We did have a follow-up bill, which attempted to clean up some of the things we couldn't achieve in the AB 890. We sponsored the bill that was helping to promote reproductive health care access for women, which passed. Initially, two additional sections in that bill were supposed to aid us in the cleanup language we needed, which included the grandparenting clause and the transition to practice language. Due to political pressure, these sections ended up getting removed from the bill, and we had to pursue other ways to facilitate the rollout of AB 890.
Outcomes:

Starting on January 1, 2023, thanks to the AB 890, nurse practitioners can apply to become "103 NPs" and practice without standardized procedures. 103 NPs can become "104 NPs" when eligible, and may seek the opportunity to open their practices if they choose in the near future. NPs will need to thoughtfully prepare and develop a business plan for the patients they serve and how they prefer to do so.
An analysis showed that our national certification exams were adequate to support independent practice. We didn't need any additional examination requirements, and that's part of this regulatory package. Full practice authority now has a path through the CA BRN as a "104 NP."
We may still need to introduce new legislation, and we want to be ready to go in three years. This is very exciting and challenging at the same time.

Challenges: It has been challenging to realize how much money is what actually moves things, and it's only sometimes commensurate with the bill's importance or value. While teaching healthcare economics, I always talk about competition and market entry. An assumption of related theory is that the most effective way to limit competition is through regulation. While AB 890 was moving through the CA legislature, I remember standing in front of my class, looking at those bullet points on my slide, and thinking it should be more evident that NP practice was being treated like competition by opposing groups. In the end, enough public support and acknowledgment of the need to close the provider gap with NPs as competent help moved AB 890 to the finish line.
The Advantage of Nurse Practitioners
Nurses always hold a holistic view of the health of our patients. It's inherent in our profession and often extends to a holistic view of the healthcare system.
Nurse practitioners are particularly good at what they do because of their experience as registered nurses. As RNs you assess, manage, and educate patients. In primary care, as a family nurse practitioner, I really know my patients. I consider how their health may impact their life because I see their children, spouse, or parents, or I know what they do for work. That all gets factored into the plan of care. Nurse practitioners can genuinely improve population health by supporting healthy communities.
CANP President-Elect
As the President-Elect of CANP, I plan to support and build upon the alliances and partnerships we have developed. With AB 890 passing, the game-changer was creating the Close the Provider Gap Coalition with more than 80 partners. We must continue to foster that and support other organizations with similar interests in a collective effort to transform the health of California.
I'd also like to spearhead the support for the 104 NP track. In three years, NPs will need to be ready to establish a medical practice with a business plan, a practice site, and everything in between. I'm hoping CANP can create a support network and host regular forums to help navigate the process and provide resources to nurse practitioners.
Pearls of Wisdom
Your future practice depends on the progress you make through legislation. As nurses, we're good at advocating for our patients, but we need to learn to be better advocates for ourselves as a profession. You can be elected or appointed to a board, but it could be as simple as joining your professional organization. Membership fees alone help support the success and advancement of your profession. Getting involved to continue delivering quality care is critical. We will surely hear more from Dr. Paulson!